Fremantle Car Hire
Central Fremantle

North Fremantle
South Fremantle
East Fremantle Town
Fremantle's West End
The Fremantle Waterfront
Fishing Boat Harbour
Fremantle Districts Map
FREE CAT Bus Map

Beaches Map

Airport to Fremantle Map
Of course you can come to Fremantle by boat! Take a cruise to Fremantle on one of many international cruise liners!
Arrive by Bicycle? Once you're here you'll find Fremantle a cyclist's dream. Easy riding everywhere.
"We LOVE the Fremantle FREE CAT (Central Area Transport) Bus! It makes it so very easy to explore Fremantle on foot. Great work Fremantle!"
~ L.P. N.Ireland
Getting around Fremantle
Getting to Fremantle, WA
Fremantle is the port city of Perth, the capital of Western Australia. "Freo" as it is called, is located at the mouth of the Swan River where it joins the Indian Ocean off the west coast of Western Australia.
Getting Around Fremantle:

Getting around Fremantle Australia
Travel for FREE on the Fremantle CAT Bus.
Twenty Seven stops around the city.
Every ten minutes
during daylight hours. Walking around Fremantle is a very pleasant experience as the roads are mostly flat. We have a
Fremantle CAT Bus Google Map
to show you where the CAT bus stops in Freo. If you prefer something a little different you could cruize around in a two seater Scoot Car which you can hire at
Scoot Freo on Phillimore Street.
Public Toilets in Fremantle


Viewing this site on your iPhone or iPad, or planning a trip on your PC? Find the nearest facilities on the Australian National Public Toilet Map of Fremantle.
Fremantle Guided & Self Guided Tours
Daily Guided tours are offered by Fremantle Tram. This is a wonderfully unique way to experience the city and your informed driver tells you everything you need to know and more.
Bicycle in Fremantle
Biking in Fremantle is easy. You can even cycle from Fremantle to Perth on world-class biking trails. Easily bike from South Beach through Central Fremantle to North Fremantle and beyond on the coastal cycle trail.
Fremantle Car Hire
Professional, Friendly and Personalised Service

A large and varied range of reliable mid to late model cars which are all quality workshop tested vehicles. All cars are air-conditioned, have 24 hour road side assistance, full comprehensive insurance and 100km per day included in all rates. Additional features can include GPS, Excess kilometres, Additional Driver and Metro & Country use. Please feel free to call us, or drop in, to discuss your vehicle hiring in further detail. Short or long term hire is available. The friendly face of Fremantle Car Hire! Recognising the need in Fremantle for a competitively priced, reliable hire car service, Doug Boardman, who started Fremantle World of Cars in 1998 branched out and Fremantle Car Hire commenced operation in July 2004. Kathy Cockeram became a partner and together they offer a very professional, friendly and personalised service.

Fremantle World of Cars

Tel Kathy on

+61 8 9335 6777 or 0419 912 052

Address

: 284 Hampton Rd (Cr Rockingham Road) South Fremantle.

Website

:

Fremantle World of Cars
Thrifty WA – When you need to move around

Whether you need to get moving with a car, 4WD or a larger people mover, when visiting Fremantle, Thrifty WA is your car hire solution.

Thrifty offers a large selection of the latest model passenger cars, people movers and mini-buses all at great prices. With the ease of hiring from Thrifty, you'll wonder why you considered anything else.

Browse our inventory and narrow your selection by transmission type, seating space and luggage capacity.

Thrifty Car & Truck Rental (WA)

Reservations: 136 139 Fremantle Telephone

: +61 8 9239-1500

Website

:

www.thrifty.com.au/wa Fremantle Branch

: 218 South Street, Beaconsfield, WA.
Budget is proud to offer the best value in car rental.

Budget always offer customers a great rate and special deals to ensure you Drive your Dollar Further. In fact, our best cheap car hire rates and offers are available online, start saving now and pick up a bargain today. Renowned for meticulously maintained vehicles and quality service, we offer a wide range of cars, 4WDs and mini buses as well as Australia's largest fleet of truck and commercial vehicles. Our car hire fleet is constantly being updated to ensure you enjoy the best in comfort and safety. We offer great rates and friendly service and a variety of additional services to provide you with added value each time you rent from Budget. Every car is automatically covered by our 24 hour Roadside Assistance and is smoke free. Special rates are available for one way rentals. For special offers, bookings and great deals visit our website.

Budget Rent-a-Car

Reservations: 1300 362 848

(within Australia)


Telephone

Fremantle: +61 8 9335 8722

Address

: Cr South St. & Hampton Rd, Fremantle

. Website

:

Budget Rent-a-Car
NIGHTRIDER: Saturday Night Late Bus Service in Fremantle
NightRider is Transperth's late night Saturday night (Sunday morning) bus service which offers an efficient, economical and reliable way of getting home for a flat fare of $5 (no concessions or passes).
Be safe on your night out in Fremantle!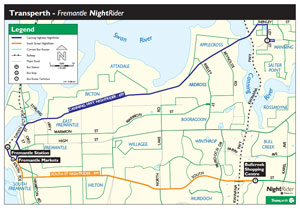 Routes:
Fremantle to Henley St in Como via Canning Hwy (Route 697)
Fremantle to Bull Creek via South St (Route 699). Click here to download the NightRider map
Times:
Services depart from Fremantle Station, then Fremantle Markets on South Tce at 1.00am, 2.00am, 3.00am & 4.00am. The NightRiders will stop anywhere along the designated bus routes provided it is safe.
Nightrider Etiquette:
This is a popular service, be friendly and show respect to your driver and fellow passengers. No eating, drinking or smoking on board.
FREE Fremantle CAT Bus
(Central Area Transport) - Route & Map
It is really the easiest way to get around Fremantle, apart from walking. The CAT Bus route begins and ends just outside the Fremantle Bus/Train station at the end of High Street. Personally we love this bus. Fremantle City should be very proud of such a high-quality, reliable, FREE Bus service like this. The bright orange bus is easy to see and it has a big black cat on the side. It is wheelchair and pram accessible. Brilliant for seeing all that Fremantle has to offer.


iPadFamily.com.au specilises in reviewing and recommending family friendly iPad Apps including the best iPad Education Apps, Creativity Apps and Productivity Apps for children and adults.
Visit them at www.ipadfamily.com.au for excellent reviews and iPad resources. Got an iPad, visit them now!