Activities in Fremantle





Day Trips from Fremantle






Central Fremantle

North Fremantle
South Fremantle
East Fremantle Town
Fremantle's West End
The Fremantle Waterfront
Fishing Boat Harbour
Fremantle Districts Map
FREE CAT Bus Map

Beaches Map

Airport to Fremantle Map





Fremantle Surfing
Fremantle Scuba Diving

Like a photo on this page?


Follow us on Facebook:
Share this on Google!
Fremantle Architecture
Over 150 of Fremantle's buildings, described as 'charming heritage sandstone buildings', have been classified by the National Trust.
There are over 3000 heritage listed properties in the Fremantle area. Fremantle's Town Hall is located in the centre of the City, it's classical facade contrasting with the modern slopes of the Western Australian Maritime Museum, yet both capture the timeless balance between the man, the land and the sea. As a city of major cultural heritage Fremantle's Architecture is unique. Restored colonial heritage buildings built in the 1800's are easily spotted. A simple stroll around the town centre streets and you can visit a sublime selection of historic buildings and imagine pioneer life in the past.
Fremantle Town Hall
1887
Fremantle Town Hall is situated on the corner of High, William and Adelaide Streets. The opening coincided with the celebration of Victoria's Jubilee and occurred on June 22, 1887.
The architects, Griffiths and Considin [Hutchinson, David (1987). Fremantle Town Hall, 1887-1987. City of Fremantle.] described the building thus:
The overall treatment to the elevation is a confident Victorian free style interpretation of classical architecture...the facades employ a multiplicity of classical elements including pediments, rusticated floor, Corinthian pilasters, pediment windows, urns, string courses, heavily moulded architraves and bas relief decoration - all rendered to appear stone...at the roof level "classicism" give way to an exuberant array of towers not encountered in classical architecture. [wikipedia: fremantle-town-hall]
Fremantle has been represented by some significant Australian political figures. John Curtin served as Prime Minister of Australia during World War II, and is often described as one of the nation's greatest political leaders. The state's largest university and a major secondary school in Fremantle are named after him, and his statue stands in Kings Square near the Fremantle Town Hall. [wikipedia: fremantle-politics]
Basilica of St Patrick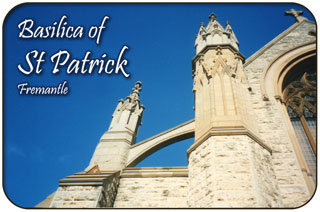 Adelaide St, Fremantle, WA, 6160
Basilica of St Patrick is a Roman Catholic church located on Adelaide Street in Fremantle, Western Australia. It is one of five churches in Australia with minor basilica status. The parish of St Patrick Fremantle was created around 1850. In 1894, the Missionary Oblates of Mary Immaculate arrived in Australia from Ireland and the parish was given to their care. Here, they established their first community. In 1994, they celebrated a century of ministry to the church in Australia, and commissioned the current church as an icon in Fremantle as part of their celebrations. Designed by Michael Francis Cavanagh in a gothic revival style, the foundation stone was laid on St Patrick's Day, 17 March 1898 and the nave opened on 3 June 1900.
The design incorporated a nave with aisles and clerestory, transepts, a wide and spacious apse, with a tower and spire supported by flying buttresses rising from the northern side. Only the nave was initially completed. A new sanctuary of equivalent scale was opened on 24 April 1960. The building was raised to the status of a minor basilica in 1994. [wikipedia: basilica-of-st-patrick]
Historic Cliff Street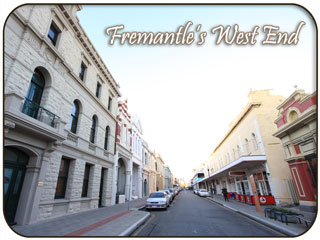 Fremantle's port role began immediately the Swan River Colony was founded in 1829, but the entrance to the Swan River estuary was blocked by a rocky bar, which made the mouth of the river virtually impassable for sea-going vessels.
The first steamship to enter the port was H.M.S. Driver on 4 December 1845. The kilometre long 'Long Jetty' was the primary port facility until the harbour was opened in 1897. [wikipedia: fremantle]
Fremantle shipping was served by the Long Jetty that extended into the open sea, where Bather's Beach is today. Cargo was offloaded onto the jetty and then taken down Cliff Street in Fremantle's West End. It was loaded onto barges that sailed up the river on the westerly sea breeze and back to Fremantle on easterly winds. Later it was transported by rail. [wikipedia: fremantle]
The Fremantle Markets are housed in the Victorian-era building, which was listed by the National Trust of Australia and the state's Heritage Council in 1980.
Built back in 1897, it is still a hub of local and holiday activity in Freo today!

On Fridays, Saturdays, Sundays and Monday Public Holidays the Fremantle Markets open it's doors offering close to 150 stalls of beautiful products of all kinds including handicrafts, specialty foods, and a beautiful fruit and vegetable market.

Convict Built Colonial Landmarks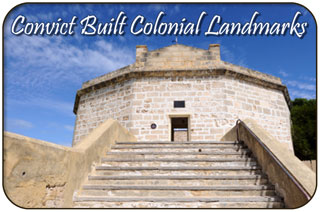 Much of Fremantle was originally built by convicts who came here during the colonial-era. Between 1850 and 1868 almost 10,000 convicts were sent to Western Australia. These convicts built these well known landmarks:
The Lunatic Asylum (now The Fremantle Arts Centre)
The Gaol (now The Round House)
Fremantle Boys School (now The Film & Television Institute)
Kerosene Store (now Kidogo Arthouse)
The Commissariat (now The Maritime Museum Shipwreck Galleries)
Imperial Convict Establishment (now the old Fremantle Prison.)
Fremantle's first bridge across the Swan River was also built by convicts in 1866 as well as an old jetty and port.
The 'Lunatic' Asylum (now The Fremantle Arts Centre)
Located on Finnerty Street the Fremantle Arts Centre's was built in 1864 and it has been a lunatic asylum, an invalid depot, a women's refuge home, a naval base during the World Wars and a technical college.
(More about Fremantle's History)
It reopened as the Fremantle Arts Centre in 1973 and is a creative icon in Fremantle. You can visit art exhibitions by regional, local, national and international artists and attend both indoor and outdoor events and music concerts, learn arts of all types and enjoy the grounds.
All courses are conducted on site at Fremantle Arts Centre, in one of five fully equipped studio spaces.

ADDRESS:1 Finnerty Street, Fremantle, WA, 6160
TELEPHONE: (08 9432 9555
WEBSITE: Fremantle Arts Centre

You might be interested in the GHOST SIGHTINGS IN FREMANTLE

The Gaol (now The Round House)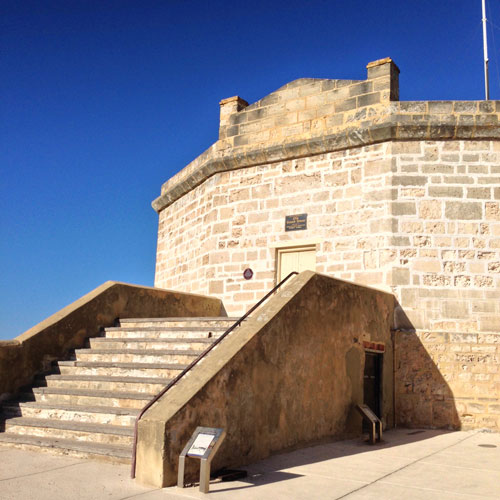 The Round House is the oldest remaining building in Western Australia opening in 1831.
It was built as a jail and was used until 1886. It had eight cells and a jailer's residence, which all opened up into a central courtyard.
The Round House is located in what is now known as Fremantle's West End, a collection of streets characterised by late Georgian and Victorian-style architecture at the tip of the southern end of the port.
If you're strolling around the west end, head west and climb the stairs to the Round House.
Well worth a visit.
ADDRESS: 10 Arthur Head, Fremantle, WA, 6160.
TELEPHONE: 9336 6636
OPEN: 10.30am - 3.30pm daily.
CLOSED: Christmas Day & Good Friday.
ENTRANCE FEES: By donation.
WEBSITE: Fremantle Round House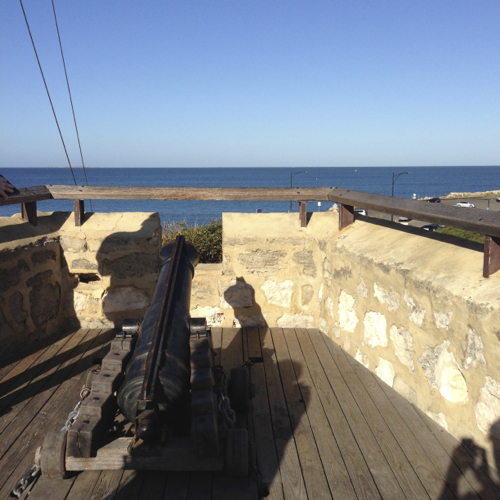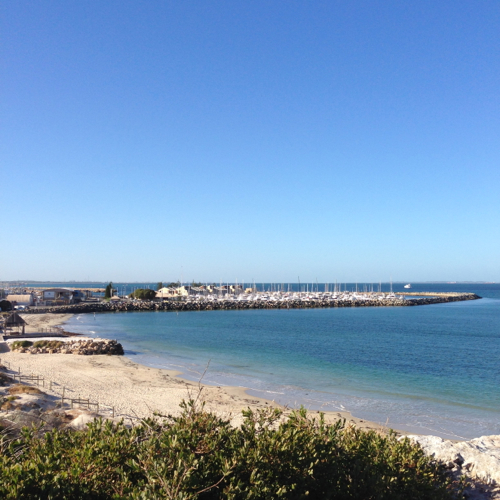 Fremantle Boys School
(now the Film & Television Institute)
This heritage-listed 19th century Fremantle Boys' School in Princess May Park now houses a state-of-the-art Film & Television Institute.
It isthe premier centre for independent screen production & events in Western Australia.
ADDRESS: 92 Adelaide Street, Fremantle, WA, 6160
TELEPHONE: (08) 9431 6700
WEBSITE: WA Film & Television Institute
Kerosene Store (now Kidogo Arthouse)
The limestone Heritage Listed building that is currently the Kidogo Art Institute and the Kidogo Arthouse was built in 1884 and is perched on the sand dunes a few meters from the sparkling waters edge of Bather's Beach, a truly sublime location perfect for its current use as a popular venue for musicians, singer-songwriters, poets and authors to stage performances and exhibitions.

ADDRESS: Kidogo Arthouse, Bathers Beach, Mews Road, Fremantle, 6160
TELEPHONE:(08) 9335 9636
WEBSITE: Kidogo Art Institute

The Commissariat (now The Maritime Museum Shipwreck Galleries)
The Commissariat building was built between 1851 and 1862. 'The Maritime Museum Shipwreck Galleries is the foremost maritime archaeology museum in the southern hemisphere' and was the original Maritime Museum. The displays feature early exploration and shipwrecks along the treacherous Western Australian coastline as early as the 17th Century. Find out more on the Fremantle Museums page...

ADDRESS: Cliff Street, Fremantle, WA, 6160
TELEPHONE: (08) 9431 8444
OPEN: daily from 9.30-5.00, except Wednesdays. CLOSED: Wednesdays plus Christmas Day, Boxing Day, New Years Day, Good Friday, Easter Monday and Anzac Day.
ENTRANCE FEES: Entry is by donation
WEBSITE: Shipwreck Galleries
Imperial Convict Establishment (now the old Fremantle Prison.)
Fremantle Prison is a former Australian prison located in The Terrace, Fremantle, in Western Australia.

The 60,000 m² (15 acres) site includes the prison, gatehouse, perimeter walls, cottages, tunnels, and prisoner art. The prison was built by convict labour in the 1850s, and transferred to the colonial government in 1886 for use as a gaol for locally-sentenced prisoners. It is now closed as a prison. Wikipedia

ADDRESS:The Terrace, Fremantle, WA 6160
TEL: 9336 9200
OPEN: Daily
CLOSED: Good Friday and Christmas Day.
ENTRANCE FEES:
FREE Entry to Gatehouse, Visitor Centre, Prison Gallery, Gift Shop and Convict Cafe.
Tours are individually priced although an "All Tour Pass" is available.
WEBSITE: Fremantle Prison
VIEW a Convict Built Architecture
Map of Fremantle
Gold Rush Architecture
The Gold Rush of the 1890's saw Fremantle firmly established as a major port and gateway into Western Australia.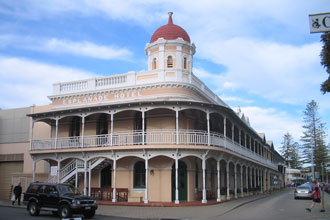 The Gold Rush generated unprecedented wealth in Western Australia. Prospectors were attracted by the optimistic ambience, the influx of goods, gold seekers and willing immigrants brought business of all types to the port. Today Fremantle is still a prosperous Port City Community with optimistic ideals and values.
The distinctly rich style of the Gold Rush buildings is easily noticed like the fashionable privately owned Esplanade Hotel. (Photo from Wikipedia)

Another Gold Rush building is the Moores Building, which is now a contemporary Art Gallery. It was the site of the general merchant business belonging to William Dalgety Moore. It is now managed by City of Fremantle and located in the historic west-end, adjacent to commercial galleries.
Modern Architecture of Fremantle


Western Australian
Maritime Museum, Fremantle
The new WA Maritime Museum is a world-class museum telling the story of Western Australia's maritime history and perfectly located where Fremantle and the ocean meet.
Located at Forrest Landing, the site of the first landing in 1829, on the Western end of historical Victoria Quay, it is the focal point of the Fremantle Waterfront and is impressively visible from many different locations.
View our: WA Maritime Museum Map
The new Western Australian Maritime Museum on Victoria Quay in Fremantle is an ideal place to share the profound experiences of WA's early ocean explorers and the nautical history which has helped to create this great state.
This landmark building houses Alan Bond's America's Cup-winning yacht Australia II and six themed galleries:
The Indian Ocean
Tin Canoe to Australia II
Fremantle and the Swan River
Hooked on Fishing
Cargoes
Naval Defence
About the Maritime Museum
Millions of migrants have come to Western Australia by sailing ship, steamship, naval vessel and ocean liner either in transit to other Australian ports or as immigrants intending to make Western Australia their home.
Immigrants from all over the world have made Australia a very culturally diverse society. The Port of Fremantle is integral to this history.
Contacting the Maritime Museum
Address: Victoria Quay Fremantle, WA, 6160
Tel: (08) 9431 8334
OPEN: Daily from 9.30-5.00, excluding Wednesdays.
CLOSED: Wednesdays, Christmas Day, Boxing Day, New Years Day, Good Friday, Easter Monday.
ENTRANCE FEES: Adults $10.00 Children 5-15 $3.00 Concession $5.00 Family Entry (up to 2 adults and 4 children) available. $22.00 Annual Passes are available.
Website: Western Australian Maritime Museum