Fremantle Music & Nightlife
Click here for
Fremantle Dancing
Music in Fremantle
There is a dedicated, diverse music and dance scene in Fremantle. You can participate at any level. Appreciate the dazzling arts of the many talented buskers on the streets of and in the venues of Fremantle. Join in at a dance, music event, festival, market, show, performance or top class concert. Learn to perform or learn to play a musical instrument right here in Fremantle.
FREO is alive and vibrant throughout the week, but at the weekends it really is pulsating with crowds of happy humans who come out to enjoy life and socialise. The vibe is friendly and a little noisy at times.
Live Music Daily & Nightly!
A celebratory atmosphere is all around as you stroll through Fremantle. Watch the buskers perform outside the Fremantle Markets, take a stroll in Esplanade Park, wander around the vibrant Fishing Boat Harbour, stop for lunch on the bustling Cappuccino Strip, meander through the many Markets, shop in the unique boutique stores, have a cold beer in the pubs or local brewery, have a swim at one of the beautiful beaches... and listen to the music of Fremantle all around you...
Fremantle Nightlife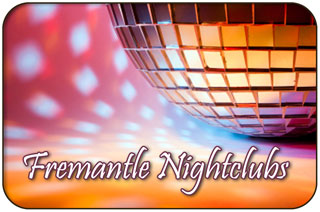 There is much to do in Fremantle in the evenings:
Fremantle has a live, vibrant music scene
"Fremantle boasts a vibrant live music scene with many local performers and venues. Popular live music venues include the Fremantle Arts Centre, Mojo's, Clancy's Fish Pub and The Fly By Night Club, all of which host local and touring performers.
Bon Scott, lead singer of the Australian rock band AC/DC, lived in Fremantle as a boy. His grave site has become a cultural landmark.
In 2009, a statue of Bon Scott, was erected at the Fishing Boat Harbour.
Singer-songwriter John Butler (frontman of the John Butler Trio) lived in Fremantle during his teenage years, and he started his music career busking in the city's streets.
John Butler Trio
Former John Butler Trio member Gavin Shoesmith is also based in Fremantle with his band The Groovesmiths. Alternative rock groups The Waifs, Little Birdy and Eskimo Joe all have connections with Fremantle, and belong to what has been dubbed the 'Freo Sound'. This music scene, and that of neighbouring Perth, were explored in the 2008 documentary Something in the Water."
~ Wikipedia: Fremantle
Music is everywhere in Fremantle...
The largest range of crafted didgeridoos on the planet!
Hand crafted didgeridoos made from 100% Australian Eucalyptus, Didgeridoos that look, play and sound great! Didgeridoo Breath is a real store, with real people, based in Fremantle, we are all passionate and knowledgeable didgeridoo players and are here for you! Buying a didgeridoo at Didgeridoo Breath is easy... and fun! In our online shop, we proudly have our planet's largest selection of didgeridoos, accessories and other world musical instruments all shipped to EVERY country in the world! Australia's largest and most experienced didgeridoo school, home of the world famous 4 week and 1 hour beginner Didgeridoo lessons. Enjoy exploring and happy shopping! Open 10:30am - 5pm everyday!
DidgeridooBreath
WA built Paddle Steamer Decoy is an iconic entertainment venue cruising the Swan River for over 25 years!
PS Decoy, a historic steam powered paddle ship, provides river cruises along the Swan River showcasing a wide variety of live music from WA musicians- jazz, strings, reggae & more! Believed to be the only steam powered paddle ship in the Southern Hemisphere the decoy is delighting Australians and friends from abroad with old world charm & elegance. Enjoy locally made beers, cider and wines from the licensed bar and Tapas styled food from the kitchen! Not suitable for very young children. The Decoy was built in Fremantle, WA in 1986 as a replica of the original steamer, which toured the Swan River back in the 1870's. For latest events, acts, schedules and ship-shape news go to our website.
Paddle Steamer Decoy
Live Music in Fremantle: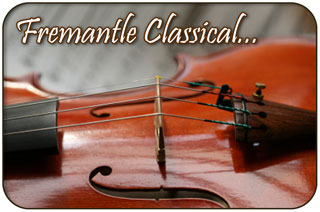 Fremantle Symphony Orchestra
The City of Fremantle Symphony Orchestra, which started in 1961, is a non-profit community orchestra with approximately 60 amateur musicians. The Orchestra performs around 5 concerts every year both locally and further south.
The 2014 season celebrated the The City of Fremantle Symphony Orchestra's 50th birthday. New membership enquiries are always welcome.
For more information please visit:
Fremantle Symphony Orchestra
Fly by Night Club
"The Fly by Night Musicians Club is a not for profit community musicians club and music venue located in the heart of Fremantle.
The Fly By Night Musicians Club has a rich history of musicians, actors, comedians, and even circus performers who have showcased their talent on the Fly's stage over the last 20 years with local, national and international artists performing at the club."
Address: 1 Holdsworth Street,
Fremantle, Australia (Entrance off Parry St)
Website: Fly by Night Musicians Club
Music Events & Music Festivals in Fremantle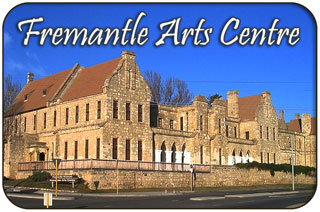 Music & Events
Music Events @ Fremantle Arts Centre
From October to March, every Sunday afternoon, this free outdoor community event is well frequented. There is a great live music line up of local acts and touring artists. This is a wonderful family friendly venue. Relax in the shaded grounds with a picnic lunch or pick up lunch from the cafe as you enjoy the music and company.
Address: Fremantle Arts Centre, Finnerty St , Fremantle
Telephone: 9432 9555
Website: Fremantle Arts Centre
Music Festivals in Fremantle
Hidden Treasures - Fremantle's Winter Music Series
Hidden Treasures will light a spark in your winter night with music, yarns, and shenanigans.
Every Thursday night in July!
Visit Hidden Treasures on Facebook
Freo Royale
Freo Royale brings the Fringe to Freo: Feb 100 shows, 10 venues promoting Cabaret, Theatre, Comedy, Music and Art. Kings Square Common transforms into the hub of the festival with a pop-up bar, delicious food and markets.
Freo Royale
Freo Royale on Facebook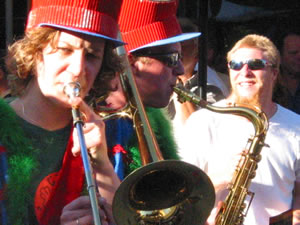 St. Jerome's Laneway Festival - Feb
St. Jerome's Laneway Festival is about leading new and revered seminal music. The festival has always been interested in finding what's fresh and bringing it to unique settings and surrounds to be appreciated by music lovers.
Laneway Festival
Laneway Festival on Facebook
Blues 'n' Roots Festival: March
The West Coast Blues 'n' Roots Festival is an annual music festival held in Fremantle, Western Australia. It features many blues and roots performers, both international and local.
Blues N Roots

Fremantle Night Clubs:

The Clink
Address:
14-16 South Terrace, Fremantle
Telephone
: (08) 9336 1919
Website
:
www.theclink.com.au
Fremantle Pubs, Breweries & Licensed Hotels with Music:
Fremantle's Pubs, Breweries and Licensed hotels are among the best in Western Australia. The port city has the best draughts from around the globe as well as the tastiest brew from right here in Fremantle.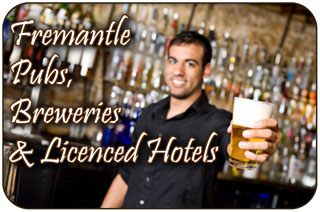 Clancy's Fish Pub:
Address: 51 Cantonment St, Fremantle
Telephone: (08) 9335-1351
Website: Clancy's Fish Pub
Marine Lounge Bar Esplanade Hotel:
Address: Esplanade Hotel, Corner Marine Terrace and Essex Street, Fremantle.
Telephone: +61 (0)8 9432 4881
Website: Marine Lounge Bar
Fremantle Comedy Clubs: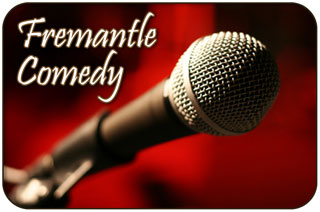 Little Creatures Loft
The Little Creatures Loft hosts Fremantle's only Saturday night comedy show. Featuring local, national, and international comedians.
Address: 40 Mews Road,
Fremantle, WA 6160
ph: 9430 5555
Telephone: (08) 9335 1509
WEBSITE: ComedyLounge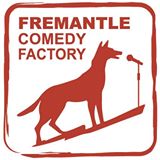 Fremantle Comedy Factory
Open Mic Comedy Night every Thursday at the Sail and Anchor.
$5 entry, 12 comedians, guaranteed laughs....
Address: 64 South Terrace, Fremantle
Telephone: (08) 9431 1666
Check out WA's up and coming comedy talent!
Fremantle Comedy Factory on Facebook
Comedy Night at the National Hotel
The National Hotel: Address: 98 High Street, Fremantle
Address: 98 High Street, Fremantle
Telephone: (08) 9335 6688
Website: National Hotel Fremantle
Fremantle Secure Taxi Rank:
Secure taxi rank
The secure taxi rank for Fremantle is based in Henderson Street Mall and is open every Friday and Saturday evening from 11.00 pm to 5.00 am as well as some public holidays. The taxi rank aims to improve safety and security and reduce waiting times for taxis in peak demand periods. It has enhanced lighting, CCTV, good accessibility to public toilets and extra security.
Conventional taxi ranks:
Fremantle Hospital, Main Entrance.
East Fremantle Opposite East Fremantle Shops
Busking in Fremantle
What is a Busker?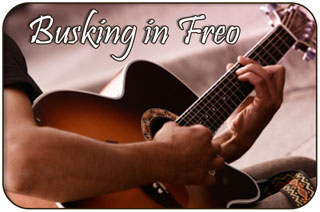 Street performance or busking is the practice of performing in public places, for gratuities, which are generally in the form of money and edibles. People engaging in this practice are called street performers, buskers, street musicians, minstrels, or troubadours. Street performance dates back to antiquity, and occurs all over the world.
Performances can be just about anything that people find entertaining. Performers may do acrobatics, animal tricks, balloon twisting, card tricks, caricatures, clowning, comedy, contortions and escapes, dance, singing, fire eating, fire breathing, fortune-telling, juggling, magic, mime and a mime variation where the artist performs as a living statue, musical performance, puppeteering... [wikipedia: street performance]
Fremantle Busking Rules & Regulations:
Information on Busking in Fremantle can be found at the City of Fremantle's Website:
Filming & Busking in Fremantle

Visiting us on your iphone or iPad? Thanks for visiting Fremantle Western Australia!