Fremantle Beaches & Outdoor Pursuits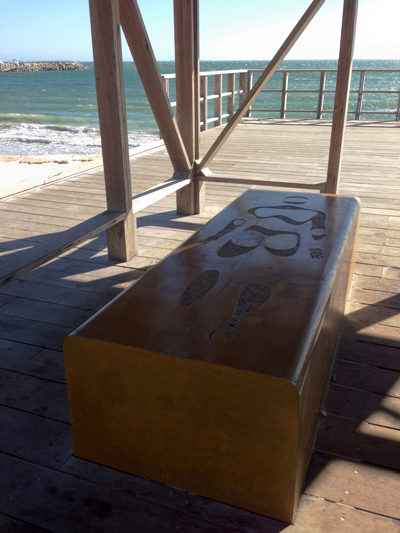 One of the City of Fremantle's greatest attractions is the coastline. The four main beaches on the Indian Ocean are perfect for swimming and other recreational leisure activities.
Each beach is unique and showcases a different aspect of Fremantle's sea-side heritage. Indian Ocean views are one of the great joys of being in Western Australia. You'll never forget a Fremantle sunset!
The beaches in Fremantle are:
We also have created an easy to use BEACHES MAP:
Central Fremantle Beaches:

Bathers Beach (Manjaree)
Bathers Bay is a perfect city beach with the Round House, The Fishing Boat Harbour, Challenger Harbour, The Maritime Museum, The Shipwreck Galleries and Esplanade Park all within a short stroll, it's easy to see why Bather's Beach is one of Fremantle's favorite local beaches!
Bathers Beach is a perfect beach to watch the sunset, as many of the locals do everyday! The generally calm waters offers safe bathing for everyone and this beach is especially popular with families.
It is centrally located between The Maritime Museum Precinct and Challenger Harbour in Fremantle's fashionable West End, characterised by late Georgian and Victorian-style architecture.

The 300m stretch of white sandy beach is perfect for swimming, although it is unpatrolled, and the Indian Ocean provides a much welcomed breeze, especially during the hot summer months of November – February. It is very popular with both locals and visitors with many people frequenting it for their daily swim!
The beach is separated in two by a groyne that juts out into the sea and the Kidogo Art House which is a "bustling centre for art activity" in a beautiful location at the ocean's edge! A picnic lunch or dinner on the beach as the sun goes down off Bathers Beach is always an unforgettable experience.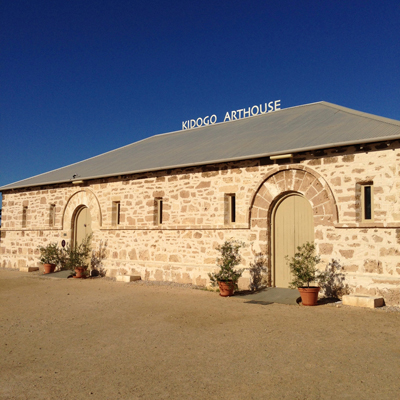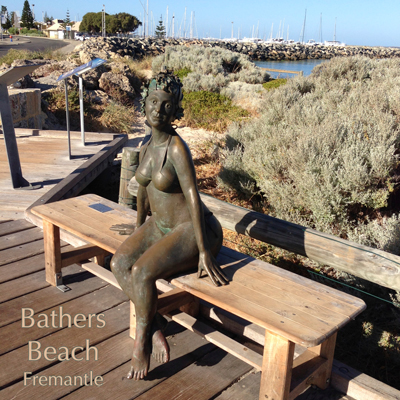 Bathers Beach (North):
The northern section of the beach is nestled between the Kidogo Arthouse and the Round House, the oldest surviving building in Fremantle.

You can reach the northern end of the beach via Fleet Street which is only a 5-10 minute walk from the Maritime Museum and the E-Shed Markets. There are several meandering pathways to the beach, which are accessible from Croke Lane once you cross over the railway track. You have a perfect view of Bathers Beach from the Back of the Round House.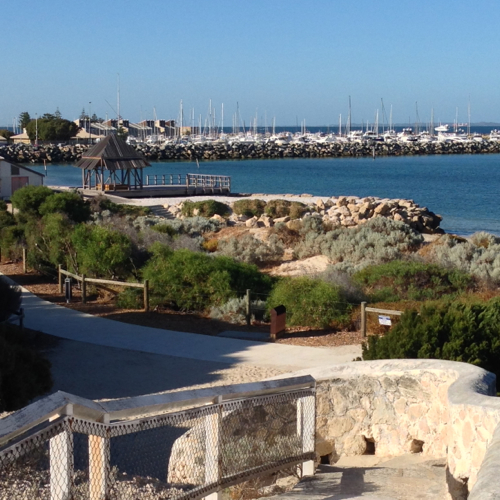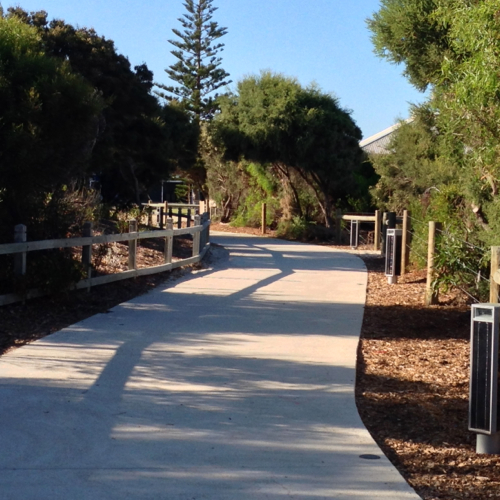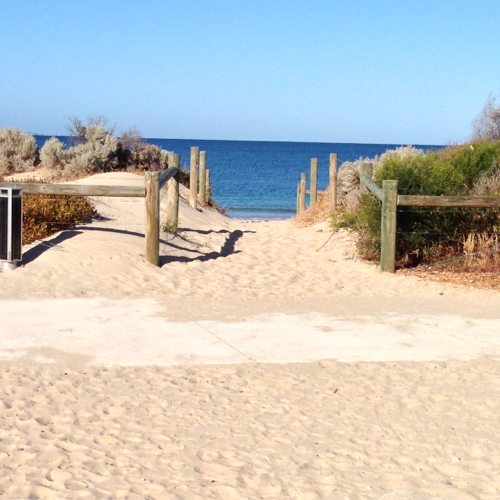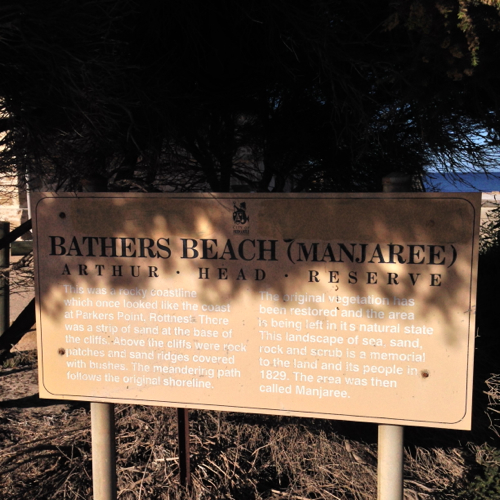 Bathers Beach (South):
The southern section of the beach, accessible via Mews Road, is the more lively of the two, as it is next to the vibrant and lively Fishing Boat Harbour, the Western Australian Museum Shipwrecks Gallery and the beautiful Esplanade Reserve.
The beach is accessible via ramps and stairs from ground level bringing you down to the beach. It's a great place to watch large cruise ships enter the Fremantle Harbour. Grab a bite to eat at nearby Fishing Boat Harbour or picnic in the park and enjoy the western views.
Bather's Beach is only a 10 minute walk from Fremantle's shopping and entertainment precinct via Essex Street or Collie Street (both main streets). Cross over Marine Terrace and walk through the delightful Esplanade Reserve until you reach the Railway Tracks.
Once you cross the Railway Lines you are only minutes from the beach in either direction, just keep walking until you reach the Indian Ocean! Only a 10 minute stroll from the Fremantle Train Station (on Phillimore St.) to Bathers Beach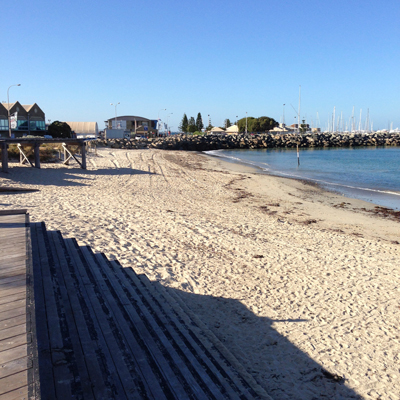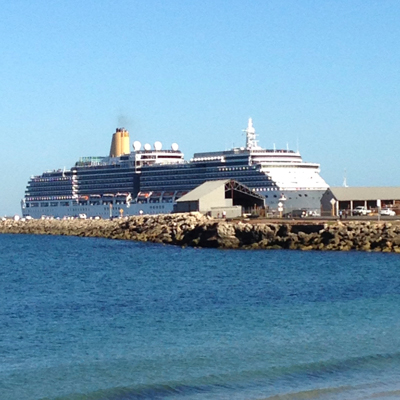 Bathers Beach Sunset Market:
Has moved to South Beach Sunset Markets.
Address: South Beach, Fremantle. Telephone: 0402 317 659
Facebook: South Beach Sunset Market
Port Beach: North Fremantle
Port Beach is a popular metropolitan beach right next to Fremantle Harbour's North Quay wharf facilities. The clean soft white sandy beach starts at the mouth of the Swan River, and continues up to Leighton Beach at the Vlamingh Parkland.
Facilities:
The small waves at Port Beach make it is safe for swimming and it is also popular with surfers, snorklers, wind surfers and kite surfers!

The Fremantle Surf Life Saving Club has a patrol tower overlooking Port Beach, offering a patrolled swimming area for some of the time.
The popular café, adjacent to an enclosed playground, makes this a relaxing beach for families with young children too. With attractive views out to Rottnest Island, ample parking and a lively social scene, it's easy to see why this beach is so popular! North Fremantle village boasts great coffee shops, restaurants and pubs, the perfect place for the discerning traveller.
Location: 15kms south west of Perth and within 1km is Vlamingh Parkland. Transperth buses are also available in the area. The closest train station is North Fremantle which is 1,200 metres away.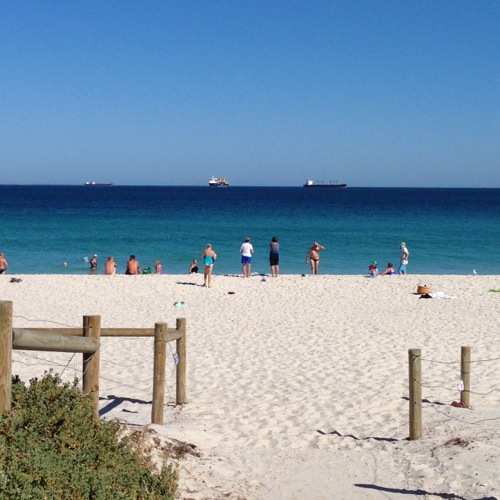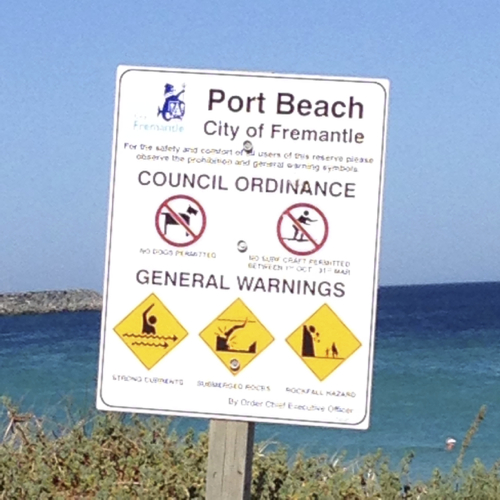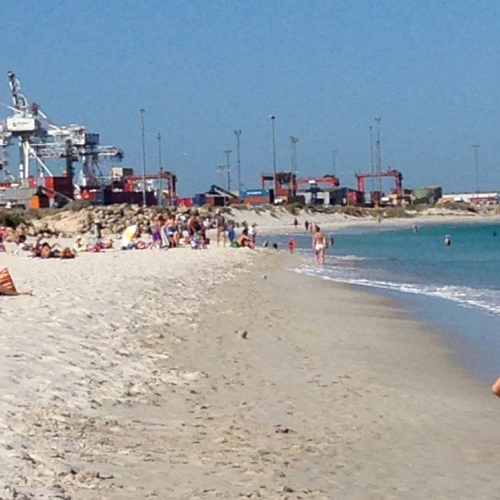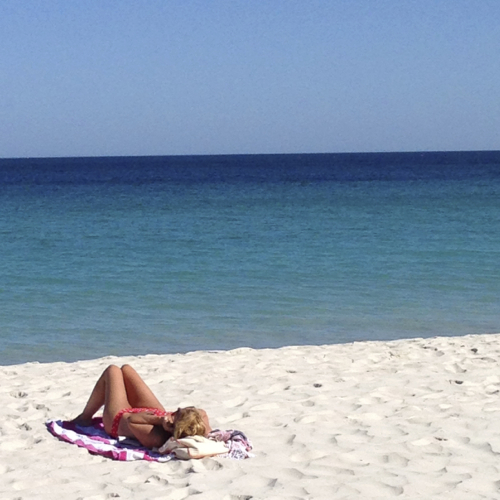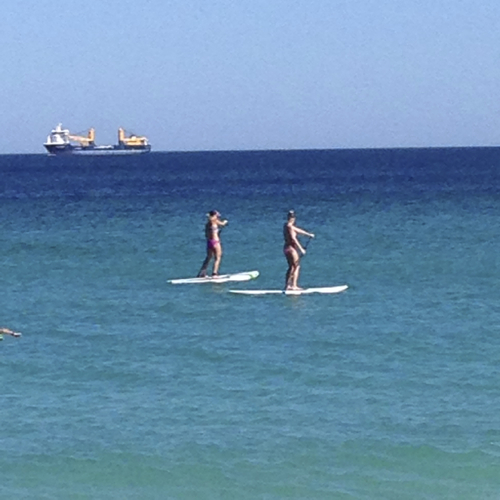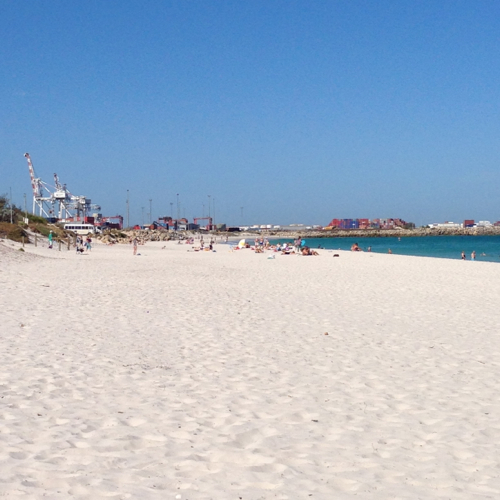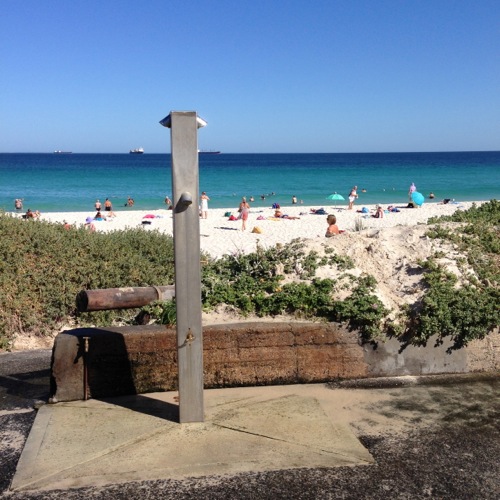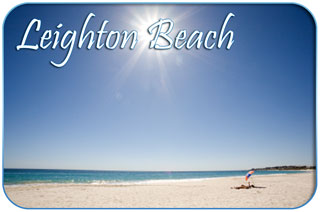 Leighton Beach: North Fremantle
Leighton Beach is a popular beach located four kilometres north of Fremantle adjoining Port Beach.
The beautiful soft white sand and turquoise ocean have tourists and locals returning again and again.
Facilities: Leighton Beach offers, safe swimming and snorkelling and it is a favourite spot for joggers, walkers, surfers, wind surfers and kite surfers! Picnic dinner on the beach as the sun goes down is always an unforgettable experience!
North Fremantle has undergone significant developmental change with residential homes now located at Leighton Beach. You'll find restaurants, shops, pubs and other amenities only a few minutes away.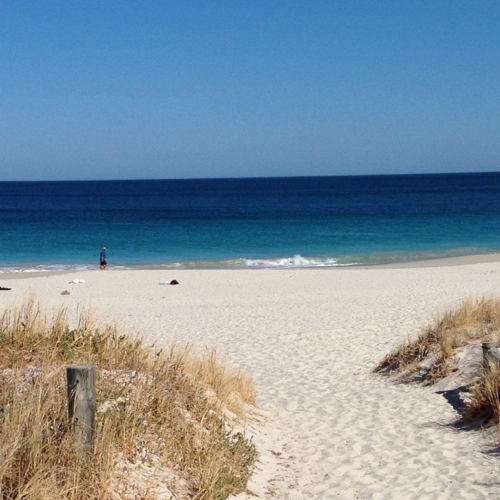 There is ample free parking around the surf club, and easy access to the beach via a choice of sand dune paths. There is a food kiosk, changing rooms, and public toilets on site. There are more car parks north of the surf club alongside the two narrow beaches that extend for 1.5 km north of Leighton Beach.
The Fremantle Surf Life Saving Club is based at Leighton Beach, and there is a patrolled area from late September till late March on Saturdays, Sundays & Public Holidays.
Low wave conditions make this a suitable swimming beach for young children. This beach is also home to the Annual "Swim Thru Leighton" held in February is a popular series of distance swimming races and to the "Day at the Beach Triathlon" in March.
Leighton Beach Kiosk - Take Away Food , Port Beach Rd, North Fremantle WA 6159. Telephone: (08) 9335 1547
Leighton Dog Beach is at the northern end offering a dog exercise area. The shallows are great for dogs that love the water! Dogs can roam from here all the way to Fremantle.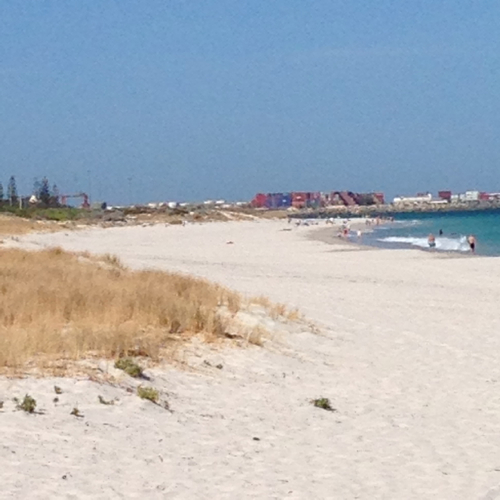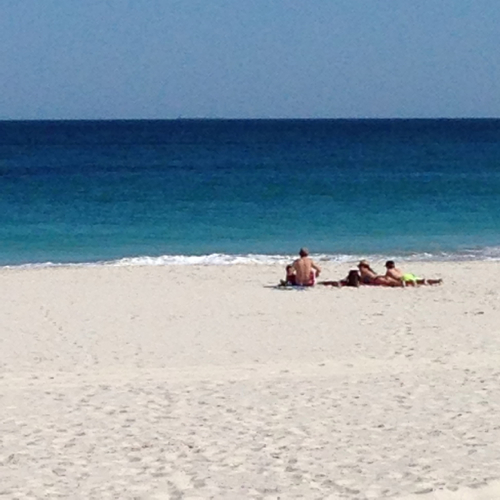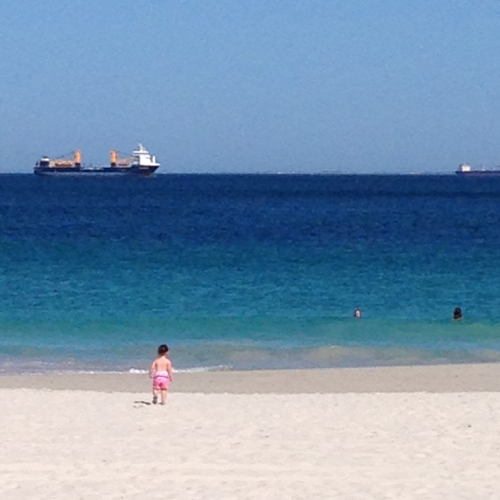 Leighton Beach starts at the corner of Port Beach Road and Walter Place and continues until Mosman Park. The northern section is also called Mosman Beach and ends at the start of the bluff and rock outcrops. From Leighton Beach, Fremantle city centre is 10 mins away by car and Cottesloe is 10 mins by car in the opposite direction.
Location: 14kms south west of Perth and within 1km is North Fremantle Train Station and only 800 metres away from the beach.
River Beach: North Fremantle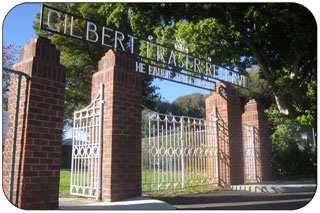 The North Fremantle River Beach is accessed by car at the end of Johannah Street beside the Gilbert Fraser Reserve. There are spaces for a few cars in a carpark at the bottom although cars can park also along the reserve-side edge.
The beautiful stretch of river beach with calm water is lined with small private boats as people enjoy life on the water! This is a delightful place to relax and watch the world go by! Enjoy a picnic or takeaway chosen from one of the many fabulous Fremantle eateries!
The exquisitely located and pristine Gilbert Fraser Reserve is home to the North Fremantle Amateur Football Club.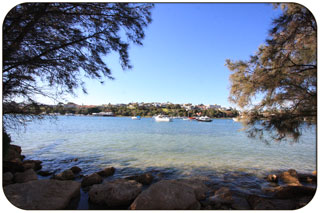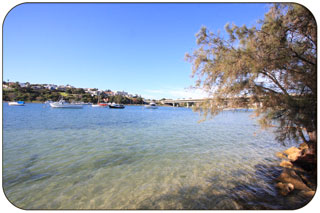 South Beach: South Fremantle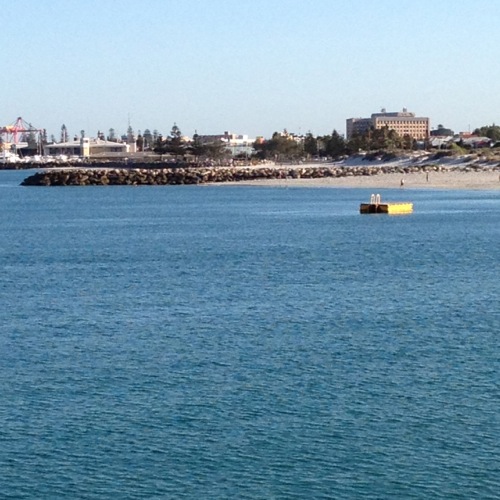 South Fremantle South Beach is a spectacular beach for watching the world famous Freo sunsets!
This magnificant white sandy beach is accessible via a large carpark and it has views of the boat harbour. South Beach is spacious and beautiful and is separated into two distinct sections.
There are views to Garden and Carnac Islands. The coastal bike trail passes through this whole area. Location: 17kms south south west of Perth and within 1km is Wilson Park.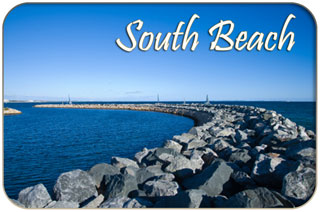 South Beach (North):
The Northern Section of South Beach begins at the Fremantle Sailing Club where it runs 400m south to the groyne.
There is a well placed car park off Marine Terrace.
This beach is primarily the South Beach Dog Beach and if you prefer to be without dogs then choose another section of beach further south (see below). The beach access path borders a well grassed and landscaped 'off-lead' area.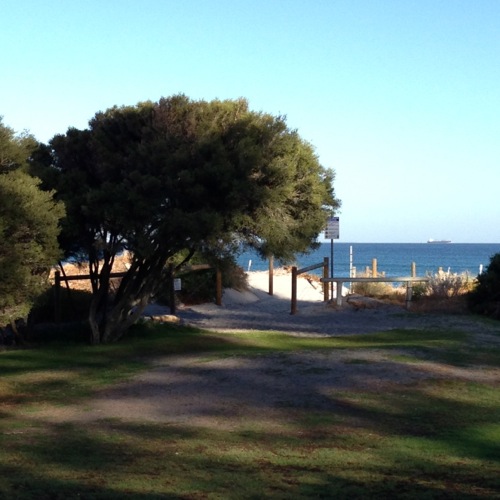 South Beach (South):
The over 400m Southern section of South Beach includes Wilson Park. This section of South Beach is a perfect example of Auzzie Outdoor Life! This is a wonderfully spacious outdoor area offering many different facilities.
The beach has an intimate community feel about it. The extensive recreational facilities include a children's playpark, changing facilites and showers, a large grassy picnic area with BBQ's, payphone and 2 large car parks.
South Beach is frequented by locals and visitors alike. Take a leisurely stroll along the white sandy shores and revitalise your spirit by taking in an WA Indian Ocean Sunset! South Beach provides a magical backdrop for that!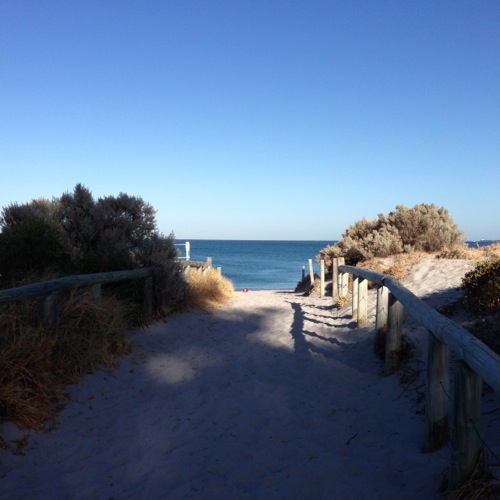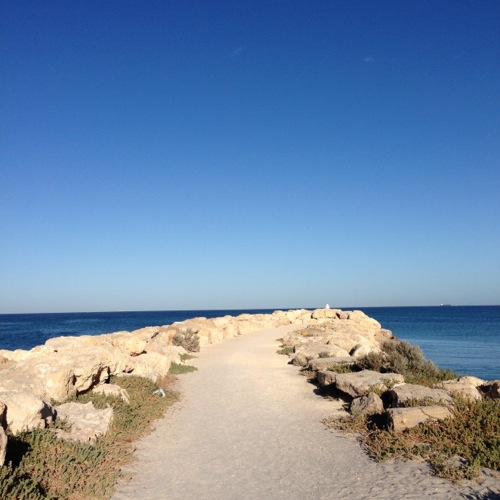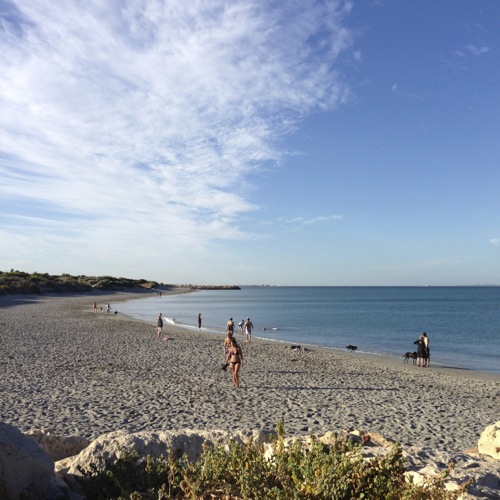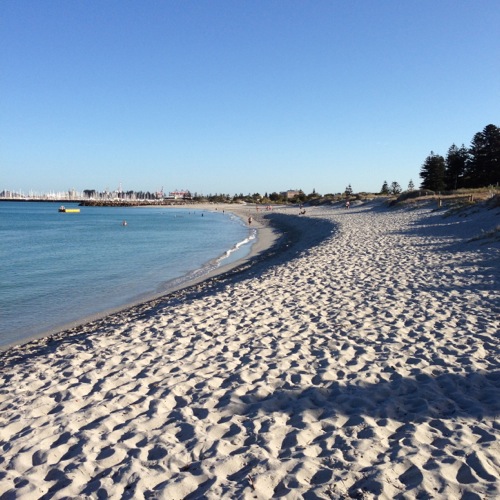 South Beach Sunset Markets:
(Formerly Bathers Beach Sunset Markets)
Every Saturday evening from 5pm - 9pm throughout the summer months.
Address: South Beach, Fremantle. Telephone: 0402 317 659
Facebook: South Beach Sunset Market
Enjoy a great global selection of delicious cuisine from friendly stallholders and great live entertainment, the perfect start to your weekend! Enjoy an evening swim and treat your soul to a glorious sunset over the Indian Ocean, one of the most beautiful sights to experience. There is a vibrant, peaceful and fun ambience as local and visitors come together on beautiful South Beach every Saturday evening from 5pm - 9pm throughout the summer months. Catch the CAT bus which will be leaving from the railway station every 20 minutes until 9.30pm.
Beaches Surrounding Fremantle:
C.Y O'Connor Beach & Catherine Point Reserve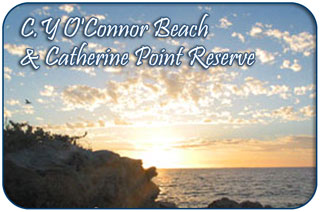 This 800m beach has beautiful white sand and it does not get too crowded. The lower end features a manicured park area with covered picnic and BBQ areas and plenty of open space to run around. There is ample parking.
The beach is a leisurely stroll over the low grassy dunes reserve. (A City of Cockburn Beach.) The most southerly section has access via Robb Road and starts a few hundred metres from the Old Powerhouse and continues right up until the groyne.
There are a few ways to get to the beach and the path crosses grassy lawn with modern BBQ and picnic areas, toilet block and car park.
Location: 18kms west south west of Perth and within 1km is Coogee Marina.
This is a DOG FRIENDLY BEACH. C.Y O'Connor Dog Beach. This is a great place to walk your dog off the leash with plenty of other dogs around. Great swimming for both you and your dog!