Fremantle central is a lively hub, pleasant, clean and very easy to get around on foot, by car, by scooter or by free CAT bus. Downtown Freo winds its way through pedestrian shopping areas, to the historic West End.

Freo is vibrant, alive, filled with opportunities to eat, drink, rest, dance, shop, socialise, plus much more.
Fremantle (Central) incorporates the City Business District (CBD), the Cappuccino Strip, King's Square and main shopping precinct, the Waterfront and Harbour, Notre Dame University and the Historic West End, Challenger, the Fishing Boat Harbour and the Fremantle Golf Club.
Many of the city's most beautifully preserved Colonial and Gold Rush heritage buildings and other attractions are located in central Fremantle, such as the Round House, Fremantle Prison, Kidogo Arthouse, the Town Hall and the Fremantle Markets.
Fremantle is a cosmopolitan city with a wonderful blend of locals and visitors.
Food & Drink
Central Fremantle offers a choice of food from all different cultures around the globe. Whatever your taste buds are in the mood for you can usually enjoy.
Food ranges from fine dining to fish and chips and everything in between: Central Fremantle Restaurants
Fremantle Details:
Population: 24,835 (2006 census)
Postcode: 6160
Location: 19 km (12 mi) SW of Perth
LGA: City of Fremantle State District: Fremantle
Federal Division: Fremantle [wikipedia]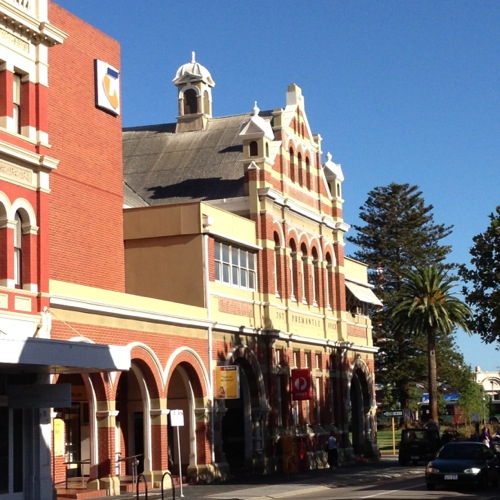 Fremantle Geography
Fremantle lies on a series of limestone hills known by the Nyungar people as Booyeembara; the sandplain to the east is Gardoo. The original vegetation of the area was mainly Xanthorrhoea and eucalyptus trees, being fired annually (in late spring or summer) by the traditional owners. [Wikipedia: Fremantle Geography]