Fremantle Waterfront
The Fremantle Waterfront is a fully operating port with a lively bustling harbour atmosphere, a vibrant destination that is popular with both locals and visitors alike.
Docks, quays and wharfs have always played a major part in Western Australia's heritage. Fremantle Ports operates on sustainable principles and the port is always organised and efficient. We like to encourage visitors to visit Victoria Quay, the south-east side of the Docks known as the Fremantle Waterfront District or locally as "Victoria Quay."
The Waterfront area includes: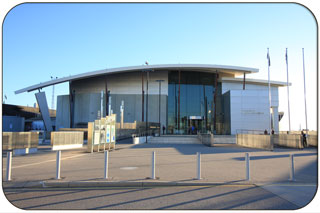 WA Maritime Museum, on the Fremantle Waterfront
Fremantle is a Port City: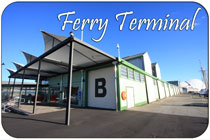 Fremantle Port comes alive with yachts in the annual Fremantle Sailing Club's "Club Marine Fremantle Harbour Classic."It is the only sailing event that takes place within the harbour so it makes it great to watch!
The main wharf area in Fremantle is the Fremantle Waterfront or is sometimes referred to as the Maritime Museum Precinct takes its name from the newly built Western Australian Maritime Museum.
The Waterfront district is accessible at the end of the Historic West End, south of the Train Station past the Port Authority Building. Visitors, we recommend taking the FREE CAT Bus (Free Bus) directly to the E Shed and Maritime Museum.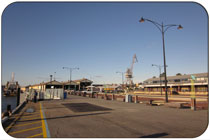 Open car parking along and between the 'sheds' along Victoria Quay. Perfect for leaving your car for a day trip to Rottnest (Terminal at BShed)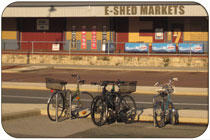 Bicycle friendly access throughout Victoria Quay to and from South, Central, East and North Fremantle.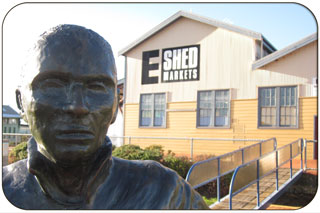 Public Artwork outside the E Shed Markets at Victoria Quay adds to the friendly atmosphere as you cross the railway line into Victoria Quay.

Western Australian Maritime Museum
The new Western Australian Maritime Museum on Victoria Quay in Fremantle is an ideal place to share the profound experiences of WA's early ocean explorers and the nautical history which has helped to create this great state.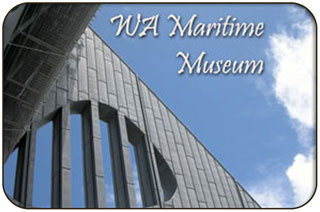 This landmark building houses Alan Bond's America's Cup-winning yacht Australia II and six themed galleries. Click here for more info on the Western Australian Maritime Museum on our Museums of Fremantle guide.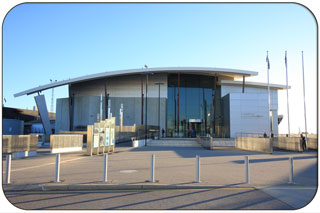 The displays at the WA Maritime Museum connect Aboriginal seafaring heritage and knowledge with the history of Fremantle as a port city. There are amazing boats inside. A must-see for ship enthusiasts.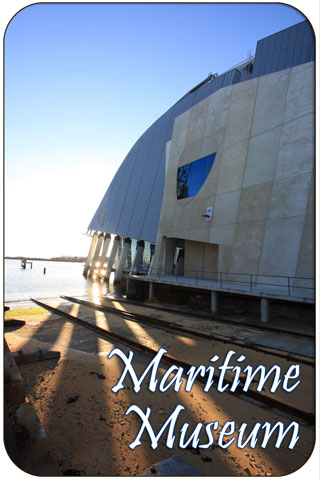 Contacting the Maritime Museum
OPEN
: Daily from 9.30-5.00, excluding Wednesdays.
CLOSED
: Wednesdays, Christmas Day, Boxing Day, New Years Day, Good Friday, Easter Monday & Anzac Day.
ENTRANCE FEES
: Adults $10.00, Children 5-15 $3.00, Concession $500, Family Entry (up to 2 adults and 4 children) available. $22.00 Annual Passes are available.
Address
: Victoria Quay Fremantle, WA, 6160
Telephone
: (08) 9431 8334
Website
:
Western Australian Maritime Museum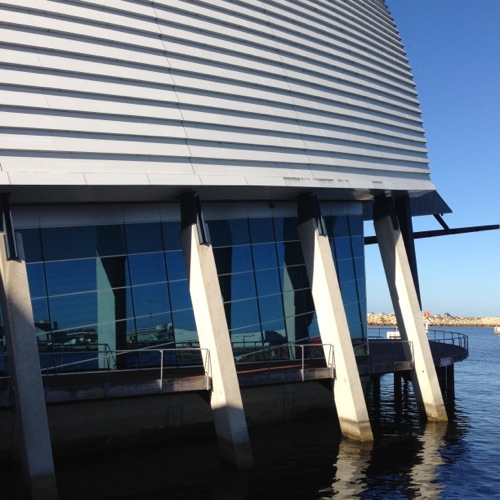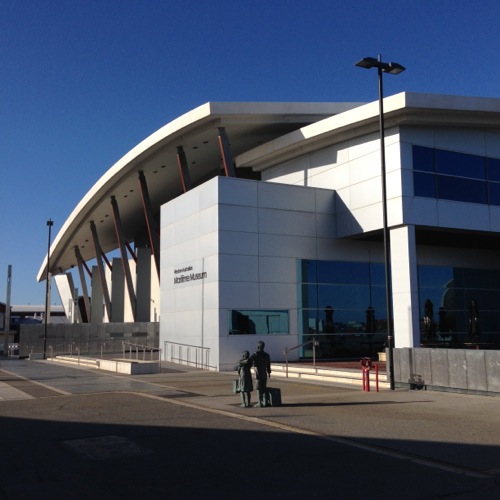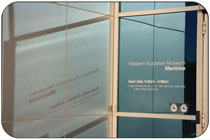 The Western Australian Museum: Maritime is open daily 9:30am to 5pm Closed Christmas Day, Boxing Day, New Years Day, Good Friday. 9:30am - 1pm on ANZAC Day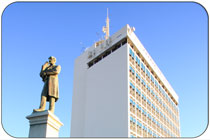 Public Artwork outside the Port Authority depicting C.Y. O'Connor, perhaps considering how to make access to the River Swan easier and safer to navigate. It is now one of the worlds top deep water ports.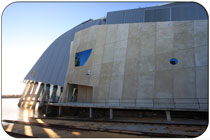 The Architecture on the Western Australian Maritime Museum is amazing. Multi-layered external facades are appealing to the eye... nautical, industrial, modern living port...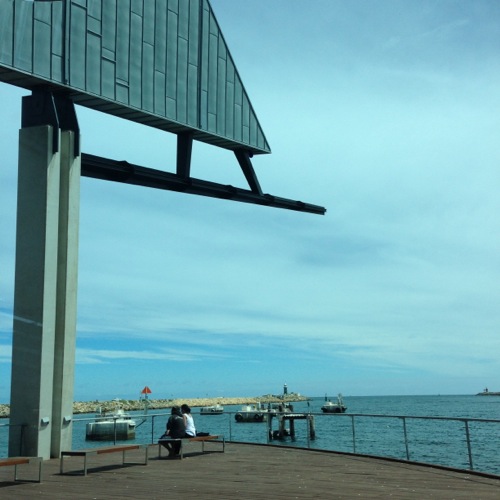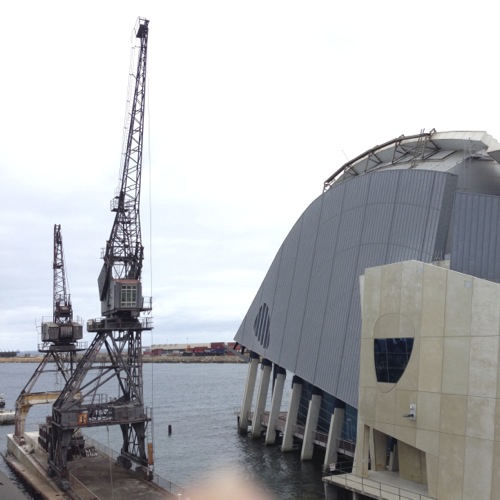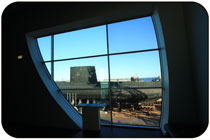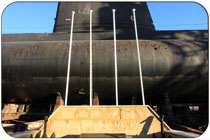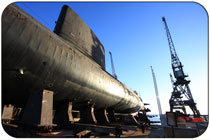 HMAS Ovens, Oberon Class Submarine
(at the WA Maritime Museum)
HMAS OVENS is an external submarine exhibit on the neighbouring slipway next to the Maritime Museum (click here for a WA Maritime Museum Map). HMAS Ovens is an Oberon class submarine formerly of the Royal Australian Navy (RAN) and is now open for tours. It was the first submarine preserved as a museum ship in Australia. This gigantic vessel gives you an idea what of what it would have been like on board as a submariner.


"Interesting, fascinating, excellent!"
'We visited the HMAS Ovens submarine as a family of five. The groups are limited to approximately ten people so there was enough individual attention that the children (and adults) learned a lot about life as a submariner.
Our guide Ron took us through a unique journey in and through this amazing sea craft. From start to finish it took approximately 75 minutes. We saw the battle stations, sleeping quarters, kitchen and the bridge while steadily moving through the ship. We learned lots of interesting facts including:
there were approximately 65 crew members
the chefs made 220 meals a day, every day of the journey
showers were once a week (optional) for 1 minute
one small locker contained all a submariner's possessions
trainees were only able to read if they were going to study
trainees had to know the use of every lever, button, nozzle and part of the ship
You must be able to make it through hatches and up step-like ladders to get in and out of the ship. Scaffolding takes you to the entrance above the ship and another brings you down... so you'll have to be able to climb stairs. '
Book a tour on the HMAS Ovens from the WA Maritime Museum
Address: Victoria Quay, Fremantle, WA Tel: (08) 9431 8334
Website: HMAS Ovens
OPEN: Daily 1 hour tours leave from the Maritime Museum every half hour, between 10.00am and 4.30pm, excluding Wednesdays. Buy your ticket at the front desk of the Maritime Museum. There is a joint ticket for Museum & Submarine or a ticket just for the Submarine. WE RECOMMEND BOOKING BY PHONE EARLY as places on this tour fill quickly.
CLOSED: Wednesdays. Christmas Day, Boxing Day, New Years Day, Good Friday, Easter Monday & Anzac Day.
ENTRANCE FEES: Adults $ $8.00, Children 5-15 $3.00, Concession $5.00, Family Entry (up to 2 adults and 4 children) $22.00, Annual Passes are available.
Please Note: Inclement Weather/Unforeseen Circumstances such as thunderstorms, high winds, heat (outside temperature above 35) and maintenance may result in the museum tours being cancelled. The tour involves strenuous activites like such as walking up and down narrow flights of stairs and ladders, moving in confined spaces and bending through hatches so you must be able to manage this to participate in this tour.

E-Shed Markets
The E Shed is the only waterfront market in Western Australia and therefore has unique appeal. Every weekend you can enjoy a glass of Western Australian wine or perhaps a chai latte while watching the hustle and bustle of the wharf.
Live Bands on Friday nights, Saturday & Sunday lunch times. Within walking distance from the Fremantle Train Station, it has ample car parking, and is also on the FREE CAT Bus route making this area easily accessible.
Opening Times General markets: Friday, Saturday & Sunday 9:00am to 5:00pm. Food court opens until 8:00pm. E Shed Markets also open on all public holidays from 9:00am to 5:00pm.
E Shed Markets, Victoria Quay, Fremantle, WA 6959
Telephone: (08) 9430 6393
Website: E Shed Market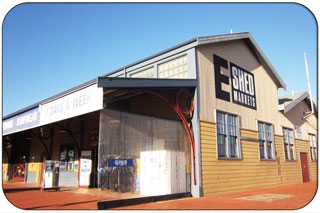 E Shed Markets, Victoria Quay, Fremantle WA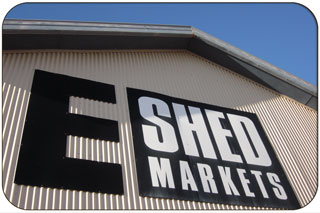 "E Shed Markets also provide the facilities to keep your children occupied including internet games, rides and an amusement centre while you enjoy a relaxing massage or having your hair styled. Enjoy a glass of wine or a cup of coffee whilst overlooking the harbour and watching the entertainment offered. Services available from E Shed Markets include hair salon, massage centre, photography service, beauty salon and more. For entertainment and fun, we have the amusement centre, bouncing castle, live bands and more."
The O'Connor Ferry Landing / Rottnest Island Ferry Terminal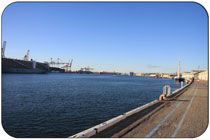 The Swan River and Rottnest Ferries are located at B Shed on the Fremantle Waterfront, Victoria Quay. Here you can get tickets to board the Rottnest Island Ferries.
There is a Rottnest Island Visitors Information centre and a cafe within the Shed. See the Fremantle Waterfront Map to get your bearings.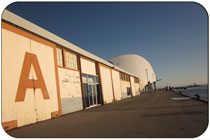 The A Shed is situated along Victoria Quay between the B Shed and the WA Maritime Museum.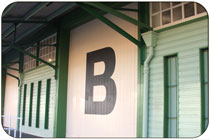 The B Shed is the Ferry Terminal for Rottnest Island Ferries. Located opposite the Port Authority and the E Shed Markets.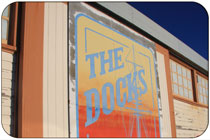 The Docks, public artwork on the south-west end of the A Shed along Victoria Quay.
Fremantle Port Authority Building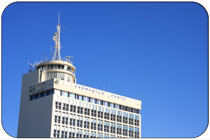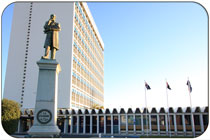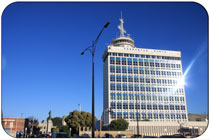 Fremantle Waterfront Map
View
Fremantle Waterfront Guide Map
in a larger map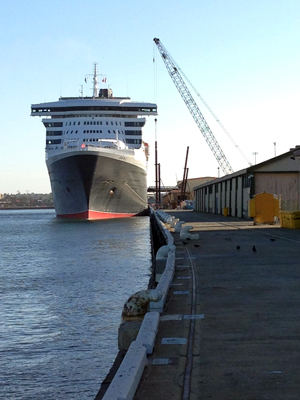 Fremantle Passenger Terminal:
Fremantle is a working port for both shipping and passengers and is a popular destination for large cruise ships filled with holiday makers.
The Passenger Terminal

celebrated its 50th anniversary
in 2010. It
won the City of Fremantle and City of East Fremantle Heritage Award in 2011 for Conservation of a Heritage Place.
The northern side of the Port manages the shipping, the
Passenger Terminal
is located on the southern side.
The Celebrate Maritime Day Expo is held in September in the Fremantle Passenger Terminal.

With cruising now one of the most popular and fastest growing sectors of the tourism industry worldwide, Fremantle today is receiving an increasing number of cruise ships visits. On occasions the Fremantle Passenger Terminal is not open to the public during cruise ship visits due to requests from cruise lines related to their security requirements and vessel operations.

The best places to see ships entering or leaving the harbour are on the western end of Victoria Quay (for example, near the B Shed Ferry Terminal, on the wharf side of A and B Sheds, or near the Maritime Museum) or on South or North moles.
The Queen Mary 2 visited Fremantle in early 2011, one of 39 cruise ships to visit Fremantle's fine shores during 2011.
Famous nautical visitors to the Fremantle Waterfront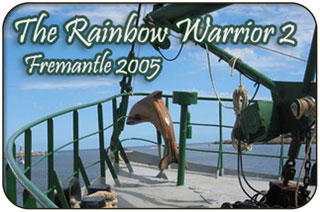 The Rainbow Warrior visits Fremantle
The Greenpeace Flagship, the Rainbow Warrior, docked at the Fremantle Quay in 2005 to demand action to stop whaling for good.
The Rainbow Warrior was named after a North American Cree Indian prophecy:
"When the world is sick and dying, the people will rise up like Warriors of the Rainbow…"
On its bow she proudly carried a dove of peace carrying an olive branch – never leaving any doubt about her non-violent mission. All around her hull, there were the striking colours of the rainbow.
In 1985, French secret service agents planted two bombs and sank our ship the Rainbow Warrior. After the bombing, the ship was given a resting place at Matauri Bay, in New Zealand's Cavalli Islands, where it has become a living reef, attracting marine life and recreational divers.
Greenpeace replaced her with a new vessel. In 2011 the new Rainbow Warrior, the world's first purpose-built environmental campaigning ship, readied herself to carry on the original Rainbow Warrior's spirit. It's a spirit that will always live on.
Today, Greenpeace continues to campaign globally! Go Greenpeace!