Why advertise with us?
Our Goal:
We know that visiting Fremantle, whether for a few hours, days, months or years is always a pleasure. We want to share the beauty and spirit of Fremantle with the rest of the world, increase the number of overall visitors to Fremantle and support tourism and local business.
Our Guide:
Our guide is fully responsive and mobile friendly!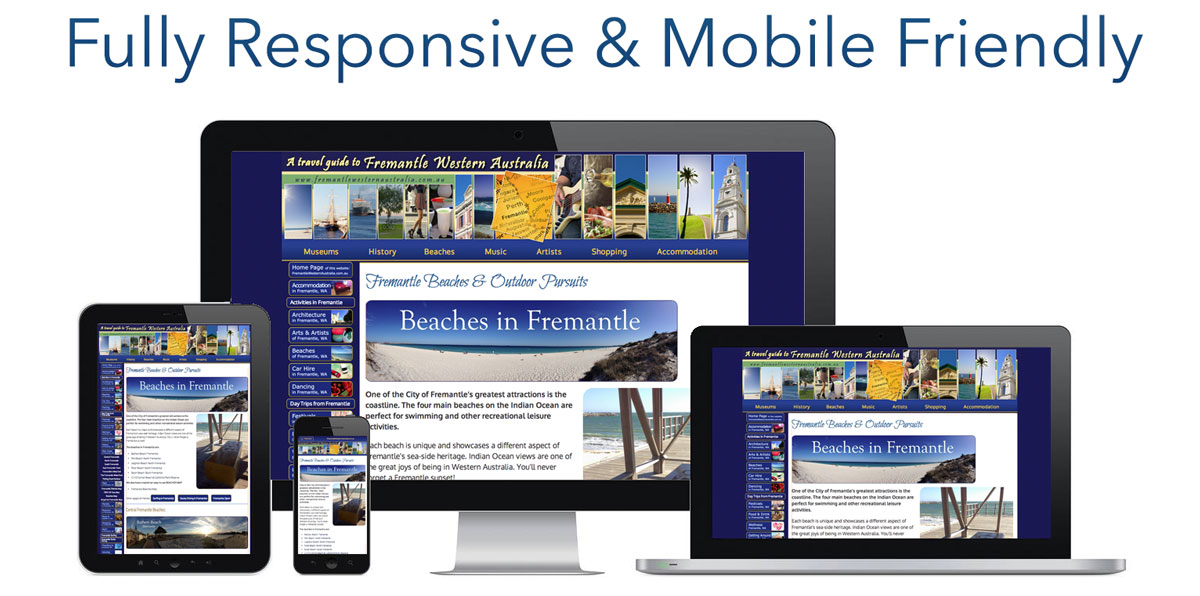 Our 50+ page online Fremantle Travel Guide is filled with high quality unique up-to-date and historical information about Fremantle and the surrounds. It is an in-depth look at the main tourist attractions within the City of Fremantle and features quality hand-selected accommodation within our Fremantle Accommodation Guide.
Content focused pages on Central Fremantle, North Fremantle, South Fremantle, East Fremantle Town, Fremantle's West End, The Fremantle Waterfront on Fishing Boat Harbour as well as maps, shopping, music, nightlife, festivals and of course the beaches!
The excellent photographs and movies, unique easy to use maps, local information, places to see and things to do make this website very popular for local, national and international visitors.
Our website covers all aspects of travel & tourism, architecture and history, food, dance and culture, music and nightlife and much more.
In browsing this unique website, visitors get a glimpse into the 'soul' of Freo, and some of what makes it unique and wonderful!
Advertising Opportunities:
Feature and Display Advertising opportunities are available. Please visit RainbowCoastWebDesign.com.au for detailed information on advertising on this website. Thank you for your interest.
Questions?
Contact Us