Fremantle Sport & Leisure Sport
Fremantle Football Club:
"The Fremantle Dockers" Fremantle

Fremantle hosts an Australian Football League (AFL) team, the Fremantle Football Club known as the Fremantle Dockers.
The Fremantle Football Club, nicknamed the Dockers, is a professional Australian rules football club competing in the Australian Football League, the sport's elite competition. The team was founded in 1994 to represent the port city of Fremantle, a stronghold of football in Western Australia.
Fremantle Football Club had its original training and administration facilities at Fremantle Oval. In February 2017 the club moved its training and administration facilities to Cockburn ARC, a world-class facility, located in the suburb of Cockburn Central. The Cockburn ARC (aquatic and recreation centre) is a large community facility located in the city of Cockburn and is the training and administration headquarters of the Fremantle Dockers Football Club.
History:
The AFL announced on 14 December 1993 that a new team, to be based in Fremantle, would enter the league in 1995. The names "Fremantle Football Club", "Fremantle Dockers" and the club colours of purple, red, green and white were announced on 12 July 1994. The decision to base the new club in Fremantle was primarily due to the long association of Australian rules football in Fremantle.
Until 2011 the FFC used the anchor symbol as the basis for all their guernseys. Since the end of the 2010 home and away season the home jumper is purple with 3 white chevrons and the away jumper is white with 3 purple chevrons. Since 2003 Johnny "The Doc" Docker, a blonde haired surfer with a surfboard under one arm, is the Docker's official mascot.
Despite enduring some tough times in the AFL, particularly early on in the club's history, fans have continued to show loyalty and passion for the club and the Dockers in Fremantle are one of the most well supported clubs in the AFL. [wikipedia]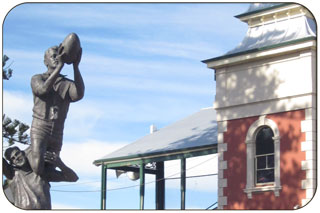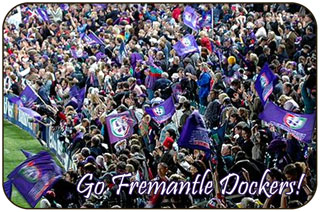 Song:
The official song of the club is Freo Way To Go. It was written in the mid 1990s by Ken Walther. [wikipedia]
Football in Fremantle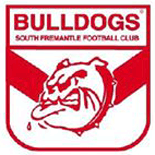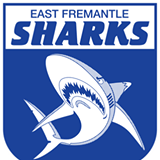 Fremantle is home to two WAFL teams in the State Football League, East Fremantle and South Fremantle

Matches are played at East Fremantle Oval and Fremantle Oval respectively. The West Australian Football League currently consists of nine teams, which play each other in a 24-round season usually lasting from March to September, with the top five teams playing off in a finals series, culminating in a Grand Final.
East Fremantle Football Club (Sharks)
In 1997 The Sharks celebrated 100 years
East Fremantle are the most successful club in WAFL history, winning 29 premierships since their entry into the competition in 1898. The East Fremantle Football Club team song is sung to the tune of "Notre Dame Victory March". [wikipedia]
Games played at the East Fremantle Oval
Cnr Moss & Marmion Streets, East Fremantle
(08) 9339 5533
East Fremantle FC Website
East Fremantle FC on Facebook
South Fremantle Football Club (Bulldogs)
The Bulldogs were formed in 1900 and play their home games at Fremantle Oval. South Fremantle was the first WAFL club to have won 10 grand finals since World-War II. Four of their 13 premierships were won against the club's traditional rivals, East Fremantle. "We're the Bulldogs" is the theme song of the South Fremantle Football Club, played as the league team comes to the field at home and away games, and after a victory. [wikipedia]
Games played at the Fremantle Oval - William St & Parry St FREMANTLE
(08) 9335 1555
South Fremantle FC Website
Rugby in Fremantle
Fremantle has a team in the Western Australia Rugby League (WARL) called the Fremantle Roosters, formed in the late 1940s, who play at Ken Allen Field.
Fremantle Roosters on Facebook

Sailing in Fremantle
Fremantle Sailing & Yachting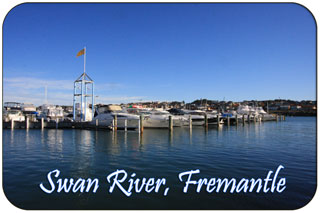 World Class Sailing:
Between 1986-87 Fremantle hosted a series of world championship sailing events: World 12 Metre Championships, America's Cup Defence Series, and the Tall Ships Race. Fremantle is a beautiful harbour after all!
Sailing & Yacht Clubs in Fremantle
Fremantle Sailing Club (FSC)
151 Marine Terrace, Fremantle
Tel: (08) 9435 8800
www.fsc.com.au
Fremantle Sailing Club on Facebook
East Fremantle Yacht Club
Base of Petra Street, East Fremantle
Tel: 9339 8111
www.efyc.com.au
East Fremantle Yacht Club on Facebook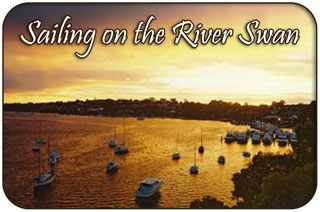 Royal Perth Yacht Club Fremantle Annexe
Mews Road, Fremantle
Tel: 9430 4590
www.rpyc.com.au
Royal Perth Yacht Club Fremantle Annexe on Facebook
The Swan Yacht Club
Riverside Rd, Preston Point
E Fremantle
(08) 9339 3520
swanyachtclub.com.au
The Swan Yacht Club on Facebook
The Swan River, the heart of Sailing in Fremantle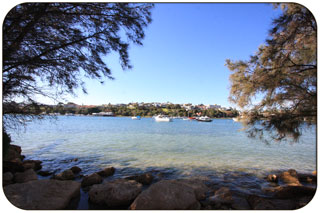 The Swan River estuary flows through the city of Perth, in the south west of Western Australia. Its lower reaches are relatively wide and deep, with few constrictions, while the upper reaches are usually quite narrow and shallow. It has three major tributaries, the Avon River, Canning River and Helena River. The climate of the catchment is Mediterranean, with mild wet winters, hot dry summers, and the associated highly seasonal rainfall and flow regime. There are currently fifteen yacht clubs along the Swan River with many anchorages and marinas along the lower reaches near Fremantle. [Wikipedia Article]
The Fremantle Port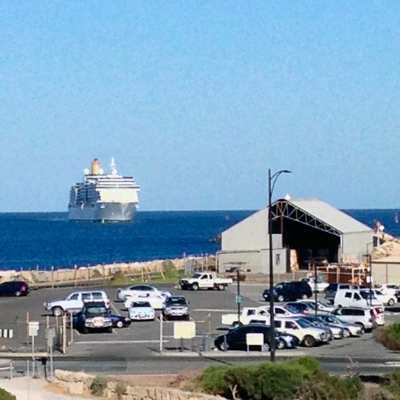 Port of Western Australia:
Fremantle Harbour is Western Australia's largest and busiest general cargo port and an important historical site. The inner harbour handles a large volume of sea containers, vehicle imports and livestock exports, cruise shipping and naval visits, and operates 24 hours a day. [wikipedia]
History of the Port:
Fremantle's past is a history of the waterways of Western Australia. Find out more about the history of Fremantle and the Swan River Colony here. Alternatively, visit the Fremantle Waterfront for information about visiting the Waterfront and Port area.
Kite Surfing, Fremantle, Western Australia
Fremantle beaches attract wind and kite surfers, who take advantage of the city's strong afternoon sea breeze.
"Kite Boarding is a young and growing sport. There are quite a few different styles of kiting in Freo, the main three are Course Racing, Wave Riding and Freestyle," says Simon Wichtermann aka Swich, one of Australia's Top Kite Surfers, and Freo local.
Kitesurfing or Kiteboarding is an adventure surface water sport that has been described as combining wakeboarding, windsurfing, surfing and paragliding into one extreme sport. Kitesurfing harnesses the power of the wind to propel a rider across the water on a small surfboard or a kiteboard (similar to a wakeboard).
A kitesurfer or kiteboarder uses a board with or without foot-straps or bindings, combined with the power of a large controllable kite to propel the rider and the board across the water. [Wikipedia]
Kite Surfing Locations:
"Woodman Point (Woodies) is an awesome Freestyle spot. It's about 20mins south of Fremantle. The best thing about woodies is it works with almost any Wind direction as you have the three beaches. Beach one (south side) beach two (middle) beach three (north side).
Swan River is a good spot for Course Racing. It's also good for the early morning Easterly's winds.
Port Beach, Leighton Beach and further north are good for Wave Riding."
says Simon Wichtermann, of Swich Kiting.
Kite Surfing Events in Fremantle:
"If you want to be informed about the upcoming events or you are interested in competing it's a good idea to become a member of WAKSA (Western Australian Kite Surfing Association) in fact it is a must if you want to compete for insurance reasons" advises Swich, One of Australia's Top Kite Surfers.
https://kiteboardingwa.org.au/
Kite Surfing Styles:
"Course racing: These are racing events - like a yacht race along a course, that involve both speed and tactics Special purpose directional race boards with long fins are used. Some raceboards resemble to windsurfing boards. The goal is to outperform other kiters and come first in the race."
"Wave-riding: Wave riding (kitesurfing) in waves is a style that combines kiteboarding with surfing. Locations with a wave break are required. Most kitesurfers use a directional board (either with our without foot straps) that has enough flotation and good turning characteristics to surf the wave. Many kiters use a board that can be used for regular surfing too (with the foot straps removed). The kitesurfer follows the kite when riding the wave, so the pull of the kite is reduced. This style is popular with surfers since it resembles tow-in surfing. Some riders do it also ride waves unhooked"
"Freestyle: The kite and board are used to get big air (jumps) so that various tricks can be done while airborne. This style also used for competitive events and is free-format and "go anywhere". Smaller twintip boards and kites with good boost and hangtime are used."
Wikipedia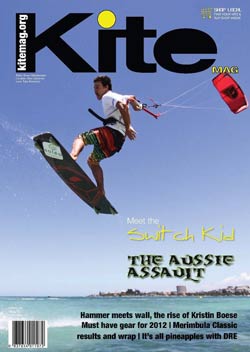 Simon Wichterman
Fremantle Pro Kiter
We have some of the top 10 riders in Australia in WA who kite surf around Freo. They are Daniel Anderson, Ryland Blakeney, Simon Wichtermann, Billy Hampton, Emerson Johnston, Harrison Johnston, Alty Frisby, Chrissy Gaudieri, Julia Ralph and Fabienne Bosiger.
Wind and Surf Gear:
Kitesurfing, Surfing & Kiteboarding, Windboarding gear can be found at SOS Surf Co, Fremantle
Wind Direction in Fremantle:
Want to know the Wind in Fremantle? Try this great tool from Windfinder. Fremantle Wind Forecast
Seabreeze is another good side to check out the wind www.seabreeze.com.au
Kiteboarding Tours near Fremantle
Enjoy a kiteboarding lesson in the worlds fastest growing and adrenaline pumping water sport!
Experience what it is like to fly a powered trainer kite under the instruction and guidance of one of our trained instructors. West Oz has one of the most exclusive kiteboarding areas in the world, as the only holder of a permit to teach in the beautiful Shoalwater Marine Park. Crystal clear waters, cross shore breezes, no boats or obstacles and surrounding islands, which provide chop protected water, allows our students the ability to tap into this uncrowded location in any wind direction. West Oz Kiteboarding has been teaching since 1999 so you're in the best hands. SEASON November to March.
West Oz Kite Boarding
Skating in Fremantle
Fremantle Skateboarding
The Esplanade Youth Plaza
is a superb, purpose built award winning venue for skateboarding, BMX bikes, scooters and also has an outdoor parkour park, which is the first of its kind in Western Australia. Located at the south eastern corner of Fremantle's Esplanade Reserve, it is a hub for young people and families. The surrounding Esplanade Park is beautiful. It offers relaxation and shade under the 100 or so grand Norfolk Island Pines, has a play ground and the Tourist Wheel for some of the best views of Fremantle. Only a few minutes walk from central Fremantle.
The much acclaimed Fremantle Esplanade Youth Plaza
also has a stage area for events and youth music gigs, a leafy promenade-styled footpath connecting the adjoining car park to the railway pedestrian crossing, a marine buoy incorporated into the bowl design (as a link to Fremantle's maritime heritage), family ping pong area, 2 500 sqm of grass, 30–35 new trees and garden beds, plus seating and audience viewing areas.
For all upcoming events and programs, please visit
Freo Youth
The family-friendly youth plaza, is located at the south eastern corner of Fremantle's Esplanade Reserve. The youth plaza has been carefully designed and chosen to be located in a highly visible inner-city hub for families and young people.The family-friendly youth plaza, is located at the south eastern corner of Fremantle's Esplanade Reserve. The youth plaza has been carefully designed and chosen to be located in a highly visible inner-city hub for families and young people.
Sporting activities and adventures in and around Fremantle
Fremantle Leisure Centre
Fremantle Leisure Centre
10 Shuffrey Street, Fremantle WA 6160
(08) 9432 9533
"The Fremantle Leisure Centre is open all year round and offers a range of health and fitness programs including learn to swim and group fitness classes. The centre boasts four heated swimming pools, a gym, café, crèche, training room and swim shop all located on 3.5 hectares of open grassed space. Memberships are available."
Website: Fremantle Leisure Centre Website
Fremantle Dog Exercising Areas:
There are designated dog exercise areas in Fremantle where you and your four legged friend can go for a run and a play.