Fremantle Shopping - 7 days a week

Fremantle is open for shopping 7 days a week, plus late-night on Fridays! The CBD is vibrant & relaxed, an interconnected pedestrian friendly zone with historic streets to meander and cool stores to find...
You'll find the High Street brands plus a stunning array of gorgeous boutique and designer shops for fashion, accessories, lifestyle, gifts, homewares plus more, dotted around the streets of Fremantle and it's fringe. A leading city for Fashion it is not surprising that many of Australia's top designers have chosen to feature their exquisite ranges in Fremantle Boutiques.
The lively Cappuccino Strip offers a laid back ambiance and nurtures Fremantle's social vibe, this city has soul. Fremantle offers splendid shopping plus great restaurants, music and entertainment possibilities too. The people of Fremantle are embracing, you will find them welcoming and hospitable.
Fremantle is Pedestrian & Bike Friendly
Or try the Free CAT BUS
Shops in Fremantle
Local favourites. Not to miss...
Charts, Books, Maps, Globes, Flags plus much more
The Chart & Map Shop, in the heart of Fremantle, is a veritable treasure trove of cartographic wonders, with thousands of charts and maps covering every corner of the globe. There's also a huge range of travel guides from the likes of Lonely Planet, Rough Guides, Dorling Kindersley, Insight Guides, Michelin Guides, Rick Steves and loads of others. As well as that, they stock a massive range of books on boating, fishing, 4WDriving, travel and the outdoors, and heaps of language learning products. You'll also find globes, flags, travel accessories and loads of other bits and pieces. The big blue building is well worth a visit when you're in Fremantle.
Chart & Map Shop
Bazaar Style Clothing, Decor and Personal Luxuries
Some place unusual and original lies south of every border. South of the Border in Fremantle is one such treasure. Beyond the chain stores and department warehouses, discover the exciting world of Bazaar style encapsulated within this shop.
The range includes unique but accessible clothing (from small to extra lovely), distinctive jewellery and quirky giftware. Open 7 days a week 9.30 to 5.30, 11-4 on Sundays. Labels carried include Naudic, Ruby St, Uttam London, Yumi, Sash, Lilia, Zebart. Ceramics by Jena Bedson. Body products from MOR, Tonic and Thurlby Herb Farm. Handmade jewellery by Strutt.
South of the Border
The largest range of crafted didgeridoos on the planet!
Hand crafted didgeridoos made from 100% Australian Eucalyptus, Didgeridoos that look, play and sound great! Didgeridoo Breath is a real store, with real people, based in Fremantle, we are all passionate and knowledgeable didgeridoo players and are here for you! Buying a didgeridoo at Didgeridoo Breath is easy... and fun! In our online shop, we proudly have our planet's largest selection of didgeridoos, accessories and other world musical instruments all shipped to EVERY country in the world! Australia's largest and most experienced didgeridoo school, home of the world famous 4 week and 1 hour beginner Didgeridoo lessons. Enjoy exploring and happy shopping! Open 10:30am - 5pm everyday!
DidgeridooBreath
Alchemy & artisan products for well-being & joy for life. Designed to meet your skins challenges.
Getting in touch with our hearts and feeling good in our skin is a vital component of not only our skin's health but our overall well-being. Modern diet is depleted of nutrients, modern skin care does little more than plump up the upper layers and provide a quick fix solution that is highly disturbing and often extremely damaging to our skin and our health. Our products are based on exotic butters and precious oils well known for their healing and nourishing properties since ancient times sourced ethically and sustainably from caring communities around the world. Face Care, Body Oils, Foot Care, Oils and Powders, Aromatics, Scrubs and Salts, Sun Care, Pregnancy and Baby range and Natural perfumes. Tues-Thur 10.30am-4pm, Fri 9.30am-5pm, Sat-Sun 11am-4pm.
Halka B Organics
The biggest & best range of hand painted original art on canvas to brighten up your home, business & life
Located in the Fremantle Markets, we have the biggest and best range of hand painted original art on canvas and have been supplying households and businesses for years. You will find many of our paintings in display homes and have been used by interior designers all over Perth. If you are looking for art you simply can't look anywhere else. We have modern, exotic, pop art, contemporary and abstract paintings. We have a huge selection of the best quality artwork available today. If you live in Perth why not come down and check out our huge range this weekend? You'll be sure to find something to brighten up your home and your life. All Paintings in the online gallery can be purchased. Open Fri 9am-8pm, Sat 9am-6pm & Sun 9am -6pm at the Fremantle Markets. Click on the website link to view our full range. NW OFFERING the cheapest picture framing and canvas stretching service in town so come into our gallery for our friendly service and to view our full range of frames.

SmartArts Canvas Paintings & Picture Framing
Celebrates and nurtures the talent and diversity of WA's leading artists, sharing their artistry in store
Situated in the heart of Fremantle the store is home to a diverse collection of visual arts encompassing paintings, printmaking, sculpture, metal, jewellery, textiles, ceramics, glass, woodwork and new technologies just to name a few. When you walk through the doors of our High Street store you will discover a curated gallery offering artists a unique opportunity to sell their work. The combination of such diversity and talent in one space gives you a privileged access to a rare selection of distinctive and exceptional handmade objects from artists who are often difficult to find, a shopping experience that will inspire and delight shoppers of all curiosities. We connect artists with shoppers, to bring quality art to everyone and create an affordable, enjoyable experience for all.

The Artisan Store Fremantle
Superior rugs, furniture & rare treasures from around the world. At the Rug Studio every piece tells a story!
The Rug Studio prides itself on showcasing superior rugs, furniture and rare treasures from around the world. Offering rugs of all sizes, runners of various lengths and the option to custom design when possible. With many of the rich Moghul designs, new stylish colours, patterns and textures and the latest contemporary looks, we offer a blended collection of rugs to suit almost any décor. Together with vintage, rare treasures and village furniture, there is something new to see every time you shop with us. Our studio is constantly updating styles, colours and new trends, with new pieces arriving consistently throughout the year. The staff are more than able to assist, we also provide a free in home consultation. Shop online for your convenience. Open 7 Days: Monday-Saturday 9:30am - 5:00pm & Sunday 11:00am - 5:00pm

The Rug Studio
Crafter of cloth. Artisan of adornment. Stitch-tress of beauty. Trish Bygott brings Madam Bukeshla to life
Madam Bukeshla.. the label of Textile Artist and Designer Trish Bygott.. features our unique range of Handstitched Clothing for Women.. Designer Illustrations as Art.. Decoration and Gifts. Our Design House.. Label.. and Salon-like boutique are all housed in an enchantng structure from the turn of the 1900's on the fringe of Fremantle in eclectic Wray Avenue. Featuring our Signature Garments.. Textile products & Artworks.. our shop makes way to our production studio upstairs.. as well as a gorgeous retreat and garden for our nurturing Stitch workshops. Our designs constantly evolve and expand to reflect Madam Bukeshla's love of cloth and stitch. Not attempting to conform to established seasonal cycles affords us the pleasure of crafting an enlightened and flexible range with endless variation.. and trans-seasonal versatility.

Madam Bukeshla
WILD SILK Shawl Scarf Collection One is made of luxurious 100% silk crepe de chine and presents in two generous sizes.
Exquisite silk crepe de chine shawl scarves showcasing the wild flora of Western Australia, are the ultimate travel item. They can be easily styled into a sarong for wearing poolside, a shawl, business suit cravat, or halter neck top for after work drinks. They could even be worn as a fashion statement by men!
The scarves are suitable for all age groups and could in their own right, be framed as an art piece, if you can bear to take them off! All scarves come delivered in a box, hand signed by the artist, making them the perfect personal or corporate gift. The generous and forgiving fabric folds into a discrete roll, packing away with minimum fuss. Two sizes 200x135cm or 170x110cm. Wholesale inquiries welcome.
Wild Silk

Market Shopping in Fremantle
Fremantle Markets
Over 150 fabulous stalls offering food, health and beauty, textiles, hammocks, jewellery, fashion and accessories, wind chimes, instruments, home wares, books, gifts, flowers, sunglasses, aboriginal art, artefacts, boomerangs and didgeridoos, souvenirs, music, art, antiques, photography, camping gear, costumes, toys, paintings, puzzles and more. You can enjoy delicious kebabs, sushi, burgers, rawfood, wraps, curries, crepes, fish and chips! Relax with a cup of coffee and a slice of cake in the Market Cafe or a freshly squeezed juice or sip a glass of wine in the Market Bar, where local beers are on tap and there is live music!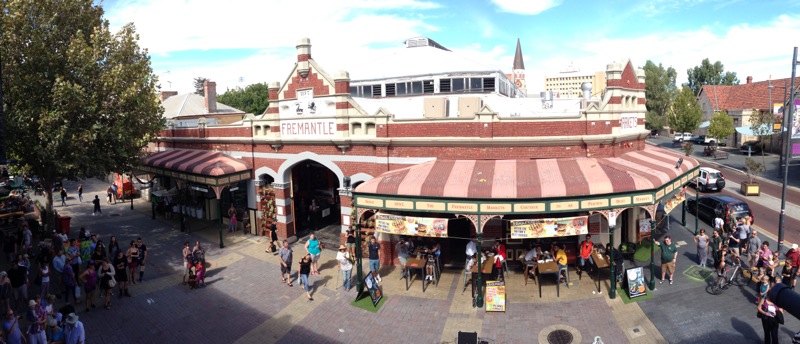 Delicious breads from the bakery, delhi, and patisserie will satisfy. Nuts, nougat, ice cream, donuts, honey, chocolate, candy, cheese, teas, fruit and vegetables galore, seafood, coffee, sweetcorn, herbs, spices and sauces will provide everyone's perfect sweet treat! Enjoy a massage, have your hair styled, gain life assistance and direction via a clarifying Tarot or Palm Reading, all of these possibilities and more are housed within this stunning Victorian-era National Trust Building. Check for 'special events' throughout the year, you could be joined by the baby animal farm or the market fairies: What's On at the Fremantle Markets

Savour the 'all year round' market experience guaranteed every weekend at the Corner of South Terrace and Henderson Street in Fremantle, where it has been for over 100 years!
OPENING TIMES:
The Yard: Friday 8am-8pm, Saturday & Sunday 8am-6pm (Monday Public Holidays 8am-6pm)
The Hall: Friday 9am-8pm, Saturday & Sunday 9am-6pm (Monday Public Holidays 9am-6pm)
Address: Corner of Henderson Street & South Terrace, Fremantle
Telephone: (08) 9335 2515
Website: Fremantle Markets
E-Shed Markets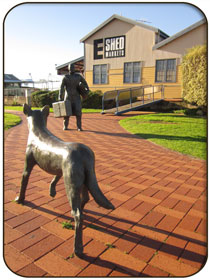 The E Shed is the only waterfront market in Western Australia and therefore has unique appeal.
Every weekend you can enjoy a glass of Western Australian wine or perhaps a chai latte whilst watching the hustle and bustle of the wharf.
The International Food Court offers a great variety of cuisine and you can enjoy both indoor dining and a picturesque alfresco alternative!
Within the E Shed markets you can find over 100 stalls selling an exquisite and diverse range of products including didgeridoos, furniture, local arts and crafts, fashion, jewellery, gems and opals, gifts, souvenirs and much more.
Food court open till 8:00pm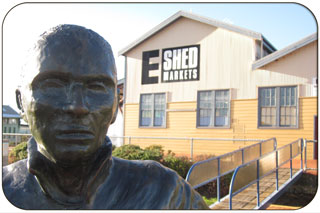 General markets:
Friday 9:00am to 5:00pm
Saturday 9:00am to 5:00pm
Sunday 9:00am to 5:00pm
Address: Victoria Quay, Fremantle
Telephone: (08) 9430 6393
Website
:
E Shed Markets
Fremantle Department Stores & Shopping Centres
Woolstores Shopping Centre
28 Cantonment Street, Fremantle
The Woolstores Fremantle Shopping Centre is open seven days a week and offers a full range of stores from major department stores to boutique and specialist shops, food hall and banking facilities. The centre offers ample on-site parking with a great FREE Parking offer, easy access by train and bus with facilities for infants, the elderly and disabled. Open 7 days a week, standard opening hours: 8am to 9pm weekdays, Saturdays 8am to 5pm and Sundays 11am to 5pm. Other facilities include Ticketek (within the newsagency), Taxi rank and public telephone.
Telephone: (08) 9335 4173
Website: Woolstores Shopping Centre
Many 2.0 (Formerly Many 6160)
52 Adelaide Street, Fremantle

Individual stores showcasing clothing, shoes, jewellery, beauty, art, homewares, surf boards, furniture, accessories, gifts and much more! This stylish spacious space provides a great shopping opportunity. Relocated from the Old Myers Building in King's Square to the old Spotlight building on Adelaide Street.
Telephone: (08) 9336 6444
MANY on Facebook
Fremantle Western Australia
Visiting us on your iphone or iPad?
Save this page to the Home Screen of your iPhone/iPad which will create a
beautiful icon to easily revisit this web page again.