Fremantle Arts & Artists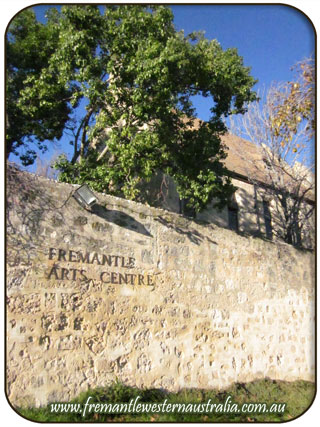 This soulful city is overflowing with artistic talent!
The city's dedication to the Arts within the community is displayed in many creative ways. The many colourful celebratory festivals throughout the year and the variety of community markets promote and showcase local artistic talent. Historic heritage listed buildings are now the home to a range of arts and cultural organisations in Fremantle.
Historic & Heritage Listed Buildings dedicated to the Arts
Fremantle Arts Centre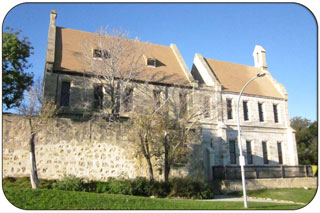 Visit art exhibitions by regional, local, national and international artists and attend both indoor and outdoor events and music concerts.
Built in 1864 by convicts it is has a very gothic past and thankfully reopened in 1972 as the much loved Fremantle Arts Centre. Now adults and children can learn art in many forms including drawing, painting, jewellery, sculpture, ceramics, glass, photography, textiles and printmaking.
Fremantle Arts Centre has free WiFi internet access for all visitors. Simply bring your portable device and enjoy. All courses are conducted on site at Fremantle Arts Centre, in one of five fully equipped studio spaces.
Address: Fremantle Arts Centre, 1 Finnerty Street, Fremantle, WA, 6160
Tel: (08 9432 9555
Website: Fremantle Arts Centre
Facilities: Disability access, Toilets, Guide & Hearing Dogs only. Bikes are welcome. There is a bike rack near the Café's side entrance.
City of Fremantle Art Collection
At the Fremantle Arts Centre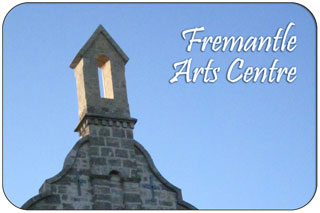 "The City of Fremantle Art Collection is the largest municipal art collection in Western Australia.
It contains over 1200 pieces, including historical works and an extraordinary mix of contemporary paintings, prints, photographs and ceramics by Western Australian artists, representing strongly Fremantle makers and Fremantle subjects.
The Collection boasts an excellent holding of Australian prints and artists' books that reflect the diversity, complexity and scale of print in Australia..." from Fremantle Arts Centre Website: Exhibitions
Art Walk Freo
In late 2014, a small group of established Fremantle artists came together spontaneously with the idea to open their homes and studios to the public for one weekend. At short notice, over 400 people visited and Artwalk Freo was born. Building on the success of that inaugural event, the artists opened to the public and had a fabulous response and it has now been running successfully for 4 years!
The creative process can be a solitary one and people rarely have the opportunity to glimpse inside a working studio and observe. An artist's studio is where all the inspiration, work sketches, thoughts and ideas merge together to become something wonderful. For Artwalk Freo visitors, being able to walk around and soak in that creative atmosphere, and discuss concepts with the artists can be an insightful and inspiring experience!
Art Walk Freo contains over 1200 pieces, including historical works and an extraordinary mix of contemporary paintings, prints, photographs and ceramics by Western Australian artists, representing strongly Fremantle makers and Fremantle subjects. Artwalk Freo
Kidogo Art Institute & Arthouse
"This unique space provides a popular venue for musicians, singer-songwriters, poets and authors to stage performances and exhibitions.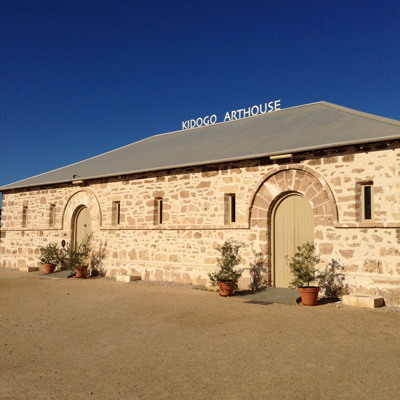 The limestone Heritage Listed building that is currently the Kidogo Art Institute and the Kidogo Arthouse was built in 1884 and is perched on the sand dunes a few meters from the sparkling waters edge of Bather's Beach, a truly sublime location perfect for its current use!
The Institute offers a wide range of short-term art courses for beginners and professional artists. All courses are taught by professional artists and both adults and children develop their unique style of painting and drawing within a variety of mediums."
Address: Kidogo Art House, Bathers Beach,
Mews Road, Fremantle, 6160
Tel: (08) 9335 9636
Website: Kidogo Art Institute
Beautiful space by the sea in Fremantle. We love the colour the Kidogo Arthouse changes throughout the day. Always beautiful.
Moores Building Contemporary Art Gallery
"Established as a visual arts venue in the west end of Fremantle showing diverse and changing exhibitions of West Australian art.

It is managed by City of Fremantle and is located adjacent to commercial galleries and Notre Dame University. Restoration was conducted by City of Fremantle over an eight-year period commencing in 1986 and later in 1993. Moore & Moore café ((08) 9335 8825) within the building and courtyard is open from 7.30am to 4pm daily and offers the much sought after 'all day breakfast'."
Address: 46 Henry St, Fremantle, WA, 6160
Tel: (08) 9335 3519
OPEN: Daily 10am-5pm.
Entry FREE, donations appreciated.
Website: The Moore's Building
Artsource at the Old Customs House
"The pre eminent place for clients to engage artists and for artists to go to for employment opportunities in Western Australia.

The Old Customs House is home to Artsource and the WA Circus School and has artist studios and arts organisations. Artsource began in 1986 as the Fremantle Arts Foundation to advance the profile of visual artists in WA."
Address: Corner of Cliff & Phillimore Streets.
Tel: (08) 9335 8366
Website: Artsource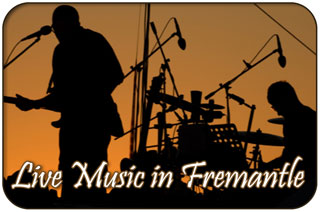 Fremantle Children's Literature Centre at the old Fremantle Prison Hospital
"Housed in the wonderfully restored Fremantle Prison Hospital this centre brings literature alive for children and adults.
There are four full exhibitions of Australian picture books on display each school term. The exhibitions comprise the original artwork, as well as material from the illustrator and author including preliminary sketches, storyboards, reference materials, draft manuscripts and correspondence. Workshops are held in conjunction with each exhibition for both children and adults. The general public has the opportunity to view the exhibitions, meet local and interstate authors and illustrators and purchase books and artwork during our Open Days and at other events held throughout the year."

Address: Old Prison Hospital, Cnr Knutsford & Hampton Rd, Fremantle 6160
Tel: (08) 9430 6869
Website: Fremantle Children's Literature Centre
Fremantle Art Galleries

Aboriginart
6 Elder Place, Fremantle
(08) 9336 1739 or 0403 012 615
www.aboriginart.com.au
Artisan Store
81a High Street, Fremantle
(08) 9336 1338
www.theartisanstore.com.au
Artitja Fine Art
330 South Terrace, South Fremantle
(08) 9336 7787 or 0418 900 954
www.artitja.com.au
Adam Monk Gallery
62 High Street, Fremantle
(08) 9336 6102
www.adammonk.com
Buratti Fine Art
222 Queen St, North Fremantle
(08) 9433 6369
www.buratti.com.au
David Giles Art Studios
49B High Street, Fremantle
0416 079204
www.davidgilesartgallery.com
Elizabeth Mavrick Art
255 South Terrace, South Fremantle, 6162
0422 952424
www.elizabethmavrick.art
Fremantle Arts Centre
1 Finnerty Street, Fremantle
(08) 9432 9555
fac.org.au
Finishing Touch Gallery
34 High St (Cnr Henry St), Fremantle WA
(08) 9430 5533
finishingtouchgallery.com.au
Gallery East
94 Stirling Highway, North Fremantle 6159.
(08) 9336 6231
www.galleryeast.com.au
Greg James Sculpture Studio Gallery
2 Fleet St, Fremantle WA 6160
(08) 9335 5857
www.gregjamessculpture.com
Japingka Gallery
47 High St, Fremantle
(08) 9335 8265
www.japingka.com.au
Kidogo Arthouse
Bathers Beach, Mews Road, Fremantle,
(08) 9335 9636
www.kidogo.com.au
Merenda Gallery
84/86 High St, Fremantle
(08) 9433 1570
www.merendagallery.com.au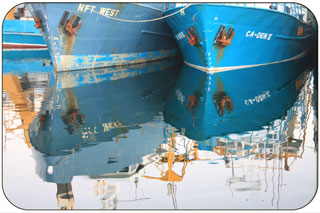 PS Art Space (PSAS)
22 Pakenham St, Fremantle
(08) 9430 8145
www.psas.com.au
Richard Smyth Wild Earth Images
Shop 46, Fremantle Markets, Fremantle
0419 905 906
www.richardsmyth.com.au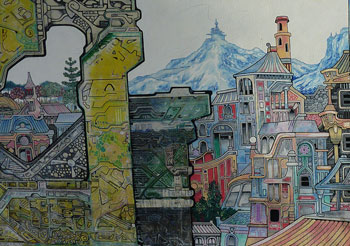 True Blue Gallery
84 High St, Fremantle
(08) 9430 3622
www.truebluegallery.com
Zinongo Gallery
47 Lefroy Road, South Fremantle
(08) 9335 4227
www.zinongo.com.au
Local Fremantle Artists
Danica Wichtermann, Ceramic Artist
Since starting to work with clay in 2006, making forms on the wheel has become my passion. I enjoy testing the boundaries of thrown vessels and exploring the limits of clay, carving into my work to see how I can transform it into something sculptural and unique. I am inspired by nature; things that usually go unseen or unnoticed. I examine plant life: patterns and shapes on bark, shades of colours on flowers, skeletal veins on leaves, growing seedlings unfurling and seeking light. I like to deconstruct things I see and recreate them in my own way. Each piece is an individual expression of nature; of self. The intent is not to replicate objects, but to simply translate something seen, or experienced in a unique and interesting way. My works are to be explored, to draw you into their own internal worlds, to be discovered and unveiled.
Rediscovering
"My art is my religion & I enjoy the progression & exploration in the journey to wherever it takes me."
Ian de Souza's arts practice spans 25 years. He is experienced in all mediums, with water-based colours and inks being his preference. Winner of a number of awards, Ian de Souza's work is represented in private and corporate collections worldwide. Inspiration comes from many places for Ian de Souza. To inspire creativity, Ian de Souza hosts Creative Art of Life Workshops in his garden studio that draws upon the five senses. These one and two day programs are held in conjunction with a guest artist from a complementary discipline. Upcoming workshops are advertised via social media with detailed information on the Courses Page of his website. The de Souza gift shop contains a range of books, card packs and music. Gifts can be purchased online.
Ian de Souza
WILD SILK Shawl Scarf Collection One is made of luxurious 100% silk crepe de chine and presents in two generous sizes.
Exquisite silk crepe de chine shawl scarves showcasing the wild flora of Western Australia, are the ultimate travel item. They can be easily styled into a sarong for wearing poolside, a shawl, business suit cravat, or halter neck top for after work drinks. They could even be worn as a fashion statement by men! The scarves are suitable for all age groups and could in their own right, be framed as an art piece, if you can bear to take them off! All scarves come delivered in a box, hand signed by the artist, making them the perfect personal or corporate gift. The generous and forgiving fabric folds into a discrete roll, packing away with minimum fuss. Two sizes 200x135cm or 170x110cm. Wholesale inquiries welcome.
Wild Silk
Crafter of cloth. Artisan of adornment. Stitch-tress of beauty. Trish Bygott brings Madam Bukeshla to life
Madam Bukeshla, the label of Textile Artist and Designer Trish Bygott features our unique range of Hand-stitched Clothing for Women. Our Design House, Label and Salon-like boutique are all housed in an enchanting structure from the turn of the 1900's on the fringe of Fremantle in eclectic Wray Avenue. Featuring our Signature Garments, Textile products & Artworks, our shop makes way to our production studio upstairs, as well as a gorgeous retreat and garden for our nurturing Stitch workshops. Our designs constantly evolve and expand to reflect Madam Bukeshla's love of cloth and stitch.
Madam Bukeshla