Fremantle's West End

Fremantle's West End incorporates the area and architecture, the Round House and Notre Dame Uni and a Fremantle West End Map.
Fremantle's Historic West End
The Round House is located in what is now known as Fremantle's West End: a collection of streets characterised by late Georgian and Victorian-style architecture at the southern end of the port. A process of gentrification in the early 1990s was accelerated by the establishment of the University of Notre Dame Australia, which occupies, and has restored, many of the buildings in the West End. [WEST END MAP, scroll down or click here]
"Walking through Fremantle's West End from central Fremantle in the afternoon hours was beautiful. Even in midwinter the skies were blue, the sun very warming. Everyone smiling and walking from place to place. We very much enjoyed our walk that afternoon... "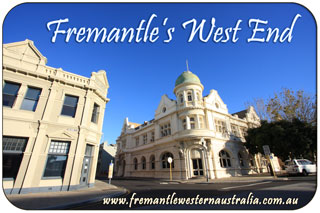 What's in the West End?
The West End of Fremantle incorporates the Fremantle Prison, Esplanade Park, Bathers Beach, Notra Dame University and the majority of Historic & Heritage listed buildings in Fremantle.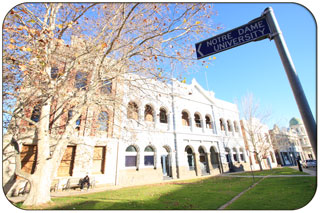 Notra Dame University, Fremantle offers degrees in Arts & Sciences, Business, Education, Health Sciences, Law, Medicine, Nursing & Midwifery, Philosophy & Theology, Physiotherapy
Stay in Fremantle's West End
Apartments between Pakenham Street and Henry Street, two of the best streets in Fremantle's lively West End.
We have one and two bedroom apartments available in the unique West End of Fremantle surrounded by historical buildings and the University of Notre Dame. The apartments are single level on level 1 or 2 of the building which has a lift at both entrances (Pakenham Street and Henry Street.)
All apartments are air conditioned, have generous size kitchens with quality appliances and dishwashers, and, European style laundry rooms with washer and dryer. These apartments are modern, spacious and beautifully detailed. Rates from $160 per night including Free WIFI. Parking is available on request. This is an enviable location with everything you need on your doorstep including cafes, bars, public transport and more.
Parklane Apartments

Fremantle's West End Architecture ...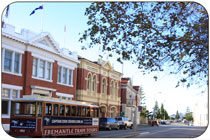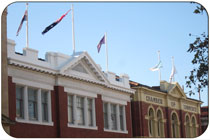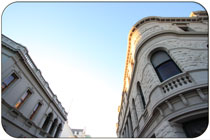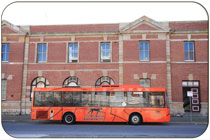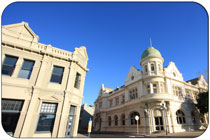 Walking around Fremantle's West End is a never-ending visual delight. Buildings adorned with fluttering flags, clear signposts on lampposts to get around. Beautiful doors and balconies and busy, working cafes! The west end is wonderful.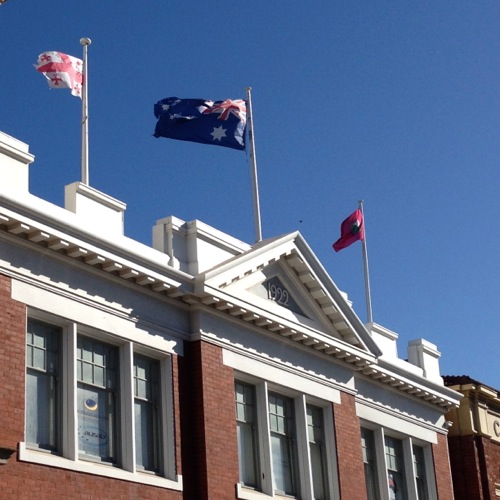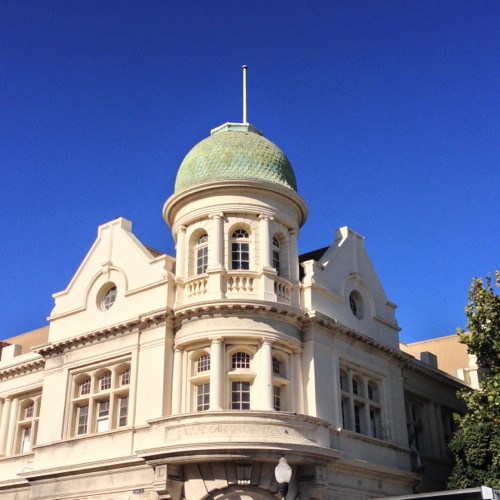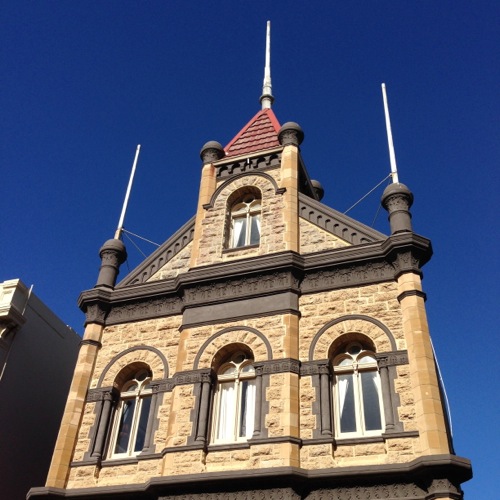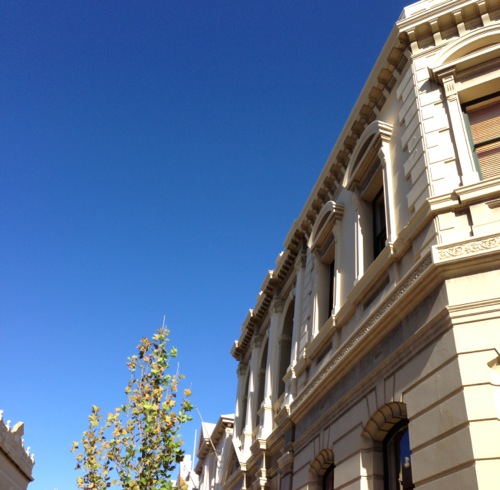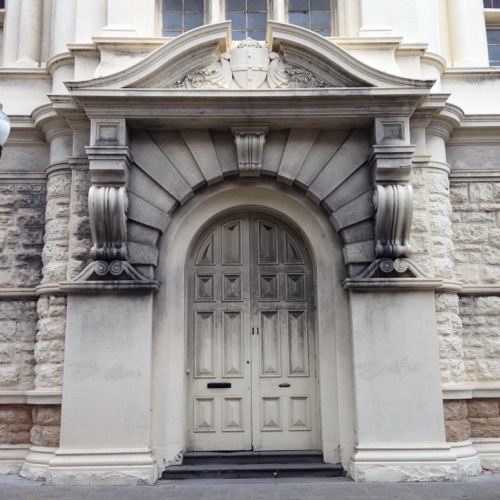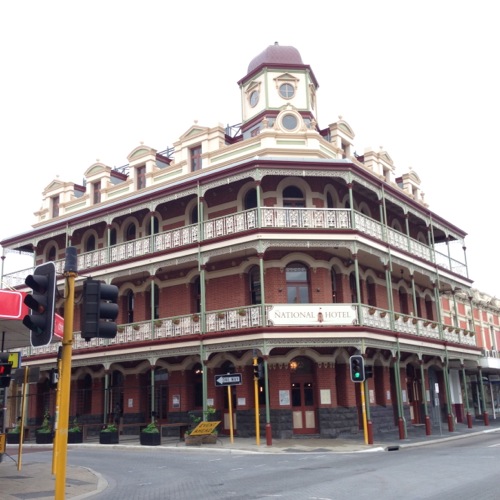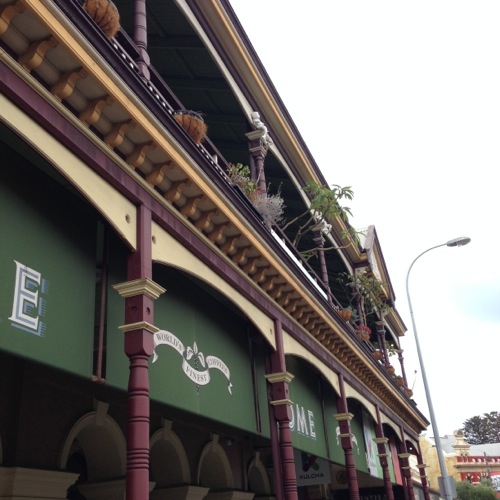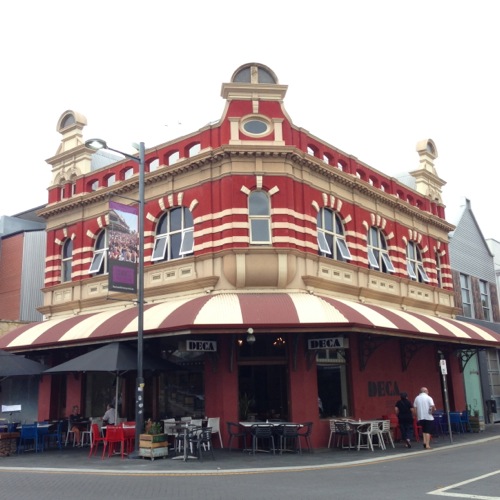 The Round House
(old Fremantle Gaol)
The Round House is the oldest remaining building in Western Australia opening in 1831. It was built as a gaol / jail and was used until 1886.
It had eight cells and a gaoler's residence, which all opened up into a central courtyard. It was later used as a home for the chief constable, his wife and their 10 children. It is now a popular tourist attraction enjoying panoramic views.
The Round House is located in what is now known as Fremantle's West End, in the Arthur Head Precinct on a headland overlooking the river mouth with uninterrupted views of Cockburn Sound. Other buildings on Arthur Head included the courthouse, cottages and two lighthouses.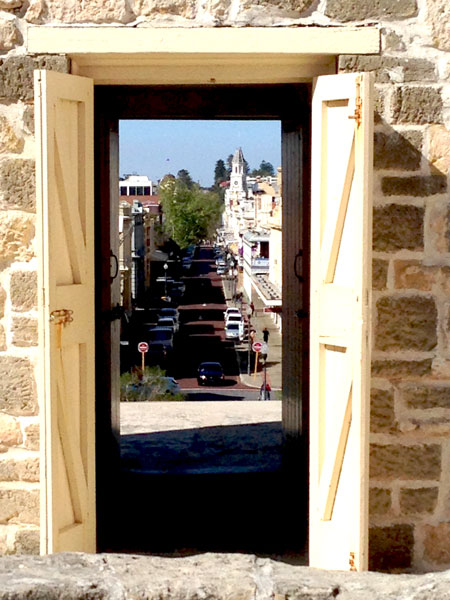 The photo above is a view of the Fremantle Town Hall as viewed from inside the Roundhouse facing East along High Street.
The Fremantle Volunteer Heritage Guides (FVHG) raise the flags each day, participate in the firing of the 1 O'Clock cannon.
This practice began in the early 1900s as a method of keeping everyone's watches aligned (and therefore keeping 'order' in the expanding colony.)
The issue of keeping clocks 'in time' was only solved by the English Clockmaker John Harrison created the marine chronometer which enabled ships at sea to 'carry' the correct time with them, after leaving sight (and sound) of the shore.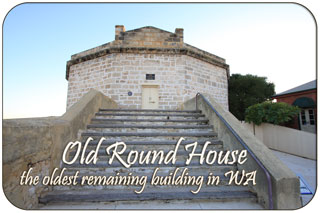 ADDRESS: 10 Arthur Head, Fremantle, WA, 6160.
TELEPHONE: 9336 6636
OPEN: 10.30am - 3.30pm daily.
CLOSED: Christmas Day & Good Friday.
ENTRANCE FEES: By donation.
WEBSITE: Fremantle RoundHouse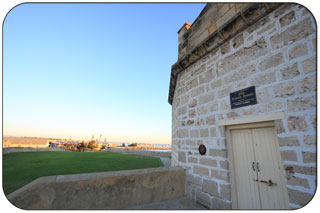 Round House facing south towards Fishing Boat Harbour.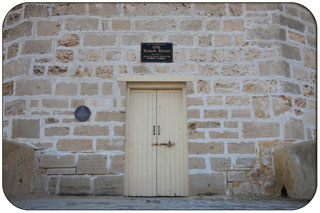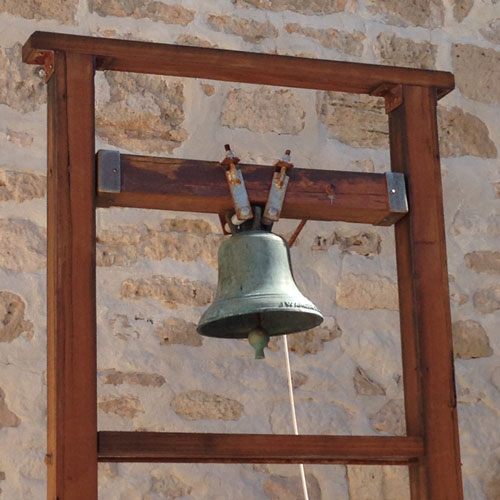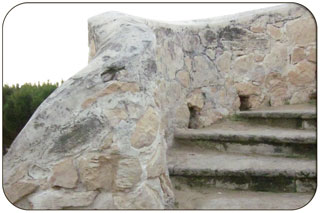 The Round House Steps down towards Bathers Beach, to the south, part of the oldest remaining building in Western Australia.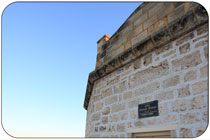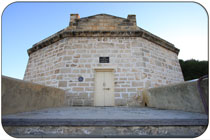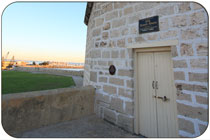 University of Notre Dame, Fremantle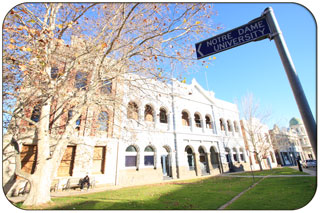 Notre Dame University has many Schools throughout the West End of Fremantle. Notre Dame university is a private Roman Catholic university established in Fremantle in the late 1980s. Since opening it's doors much of the west end has been rejuvenated and the traditional architecture restored.
Fremantle offers several different Schools within the University, specifically at the Fremantle Campus are:
School of Arts & Sciences
School of Business
School of Education
School of Health Sciences
School of Law
School of Medicine
School of Nursing
School of Philosophy & Theology
School of Physiotherapy
ADDRESS: 19 Mouat St, Fremantle, WA, 6160.
TELEPHONE: +61 8 9433 0555
WEBSITE: The University of Notre Dame

Fremantle's West End...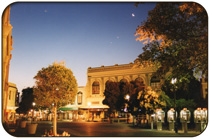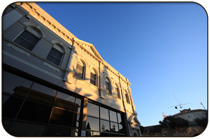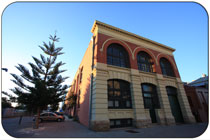 The west end of Fremantle is a wonderful place for a stroll. The beautiful buildings, fresh sea-side air, the lively bustle of a working city. The port city of Fremantle.