Lonely Planet named Fremantle as one of the top 10 cities to visit and Australia's 'secret city'!
Locals and visitors alike flock to Fremantle to capture some of that distinctive Freo Feel, a unique atmosphere, where you will experience a joy of life and a love of this unique rich city.

This cosmopolitan city is filled with opportunities to eat, drink, rest, dance, shop, socialise, tour, adventure, plus much more...Central Fremantle is a lively hub, pleasant, clean and very easy to get around on foot, by car, by scooter or by free CAT bus.
The Fremantle Railway Station, centrally located in Phillimore Street, is the terminus of Transperth's Fremantle line. The station is Heritage Listed and was classified by the National Trust in 1974.
Fremantle (Central) incorporates the City Business District (CBD), the Cappuccino Strip, King's Square, main shopping precinct, Waterfront and Harbour, Notre Dame University, the Historic West End, Fishing Boat Harbour and the Fremantle Golf Club.
Many of the city's most beautifully preserved Colonial and Gold Rush heritage buildings and other attractions are located in central Fremantle, such as the Round House, Fremantle Prison, Kidogo Arthouse, the Town Hall, and the Fremantle Markets.

King's Square
Downtown Fremantle winds its way through pedestrian shopping areas, to the historic West End and includes Kings Square and the Fremantle Town Hall, which serves as the civic and cultural centre for Fremantle. There is seating in the square, a small children's play area, toilets and shopping. Many cultural events including movies, music, markets and festivals take place in the square. It is a lively and dynamic area of central Fremantle.

John's Church of England has been standing in King's Square since 1843 and there are many public art works including:
Pietro Giacomo Porcelli (1993) – sculptor Greg James
Hughie Edwards Statue & Seat (2002) – artist Andrew Kay.
Chess Table and Chairs – artist Coral Lowry.
John Curtin (Artwork alongside the Town Hall building) – artists Charles Smith and Joan Walsh Smith.
Tom Edwards Memorial (1919) – sculptor Pietro Giacomo Porcelli.
(Wikipedia)
Food & Drink
Central Fremantle offers a choice of food from all different cultures around the globe. Whatever your taste buds are in the mood for you can usually enjoy.
Food ranges from distinguished fine dining to super delicious fish and chips and lots in between. You can check out the range of Central Fremantle Restaurants
Fishing Boat Harbour
Fishing Boat Harbour offers a experience all of its own. This busy working port for fishermen is blended beautifully with all types of eateries and a well known Brewery.
Fishing Boat Harbour is a deep water harbour which has picturesque boardwalks, a lively atmosphere and plenty of things to see and places to explore for people of all ages!

There is also short stay accommodation, open ocean high-speed boat rides and luxury charter sailing tours available from the Fremantle Fishing Boat Harbour.

Fishing Boat Harbour Dining:
There is more to eat at Fishing Boat Harbour than Fish and Chips, but it's still our favourite!
Fishing Boat Harbour boasts a great selection of food in Fremantle.
Restaurants at Fishing Boat Harbour:
Bathers Beach House
Cicerellos Fish'n'Chips
Kailis Fish Market Cafe
Little Creatures Brewery
SweetLips Fish and Chips
Joe's Fish Shack
Char Char Bull
Helm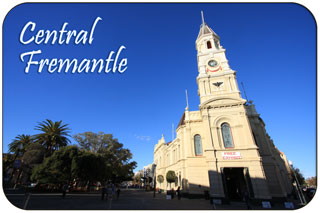 Fremantle Details:
Population: Estimated 31,046 (2015)
Postcode: 6160
Location: 19 km (12 mi) SW of Perth
LGA: City of Fremantle State District: Fremantle
Federal Division: Fremantle [wikipedia]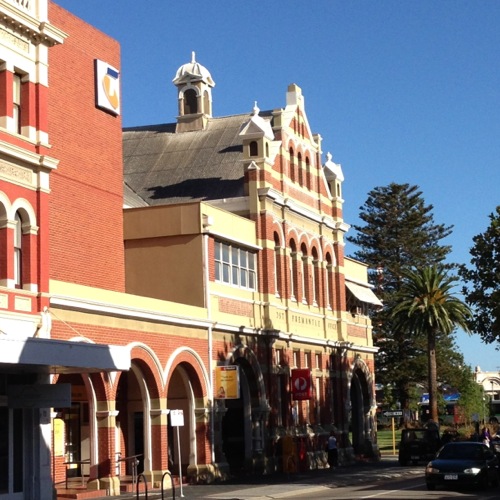 Fremantle Geography
Fremantle lies on a series of limestone hills known by the Nyungar people as Booyeembara; the sandplain to the east is Gardoo. The original vegetation of the area was mainly Xanthorrhoea and eucalyptus trees, being fired annually (in late spring or summer) by the traditional owners. [Wikipedia: Fremantle Geography]


Fremantle's Historic West End
Fremantle has been recognised as the best preserved example of a 19th century port streetscape in the world.
The entire West End of Fremantle, including more than 250 buildings has been heritage-listed, the largest single place to be added to the State Register of Heritage Places.

Heritage Minister Albert Jacob said "Fremantle's West End is a rare example of a highly intact port city business district and is particularly notable for its impressive variety of gold boom era buildings. It includes former banks, pubs, hotels, warehouses, import-export businesses and shipping companies that speak to its maritime heritage."

Walking around Fremantle's West End is a never-ending visual delight with buildings adorned with fluttering flags, clear signposts on lampposts to get around, beautiful doors and balconies...the Fremantle West End is wonderful and it is officially heritage-listed in its entirety. Glimpse life in Colonial and Gold Rush eras, look up to see the marvellous architecture seemingly everywhere you look.
Enjoy the excellent historical tour through the Round House and listen to the firing of the 1 O'Clock cannon. This 12-sided former gaol is Western Australia's oldest public building, located in the Arthur Head Precinct on a headland overlooking the river mouth, with uninterrupted views of Cockburn Sound.

Other buildings on Arthur Head included the courthouse, cottages and two lighthouses. Passing through Arthur Head is the Whalers Tunnel that enabled ease of access to Bathers Beach, Fremantle and the Long Jetty.


Maritime Shipwreck Galleries
The Western Australian Maritime Museum Shipwreck Galleries are found at Fishing Boat Harbour.

The Shipwreck Museum is the 'foremost maritime archaeology museum in the southern hemisphere' and was the original Maritime Museum.

We highly recommend a visit. Kids are engaged in the displays, there's lots to learn and lots to see. Excellent!