Fremantle Music & Nightlife
Click here for
Fremantle Dancing
Music in Fremantle
There is a dedicated, diverse music scene in Fremantle. Appreciate the dazzling arts of the many talented buskers on the streets of Fremantle. Enjoy live music every day of the week, in the numerous fantastic bars and hotels, each one friendly and interested in helping you to enjoy your time in Fremantle!
FREO is alive and vibrant throughout the week, but at the weekends it really is pulsating with crowds of happy humans who come out to enjoy life and socialise. Join in at a dance, music event, festival, market, show, performance or top class concert.
Learn to perform or learn to play a musical instrument right here in Fremantle...you can participate at any level.
Live Music Daily & Nightly!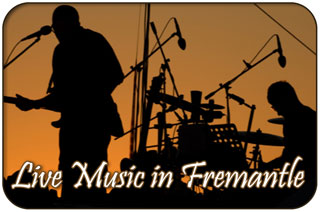 A celebratory atmosphere is all around as you stroll through Fremantle.

Watch the buskers perform outside the Fremantle Markets, take a stroll in Esplanade Park, wander around the vibrant Fishing Boat Harbour, stop for lunch on the bustling Cappuccino Strip, meander through the Markets, shop in the unique boutique stores, have a cold beer in the pub, have a swim at one of the beautiful beaches... and listen to the music of Fremantle all around you.
Fremantle Nightlife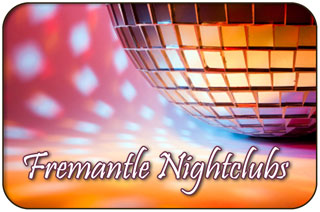 There is much to do in Fremantle in the evenings:
Fremantle has a live, vibrant music scene
Fremantle boasts a vibrant live music scene with many local performers and venues. Popular live music venues include the Fremantle Arts Centre, Mojo's, Clancy's Fish Pub and The Fly By Night Club, all of which host local and touring performers.
Bon Scott, lead singer of the Australian rock band AC/DC, lived in Fremantle as a boy. In 2009, a statue of Bon Scott, was erected at the Fishing Boat Harbour. Bon Scott was actually born in Kirriemuir, Scotland, but his family moved to Australia and he lived in Fremantle when he was ten.
Singer-songwriter John Butler (frontman of the John Butler Trio) lived in Fremantle during his teenage years, and he started his music career busking in the city's streets.
John Butler Trio
Former John Butler Trio member Gavin Shoesmith is also based in Fremantle with his band The Groovesmiths. The band is recognised for its unique style and awe inspiring live performances, blending strong elements of Reggae, Jazz, and Hip-Hop into traditional Blues and Roots music.
The Waifs
,
Little Birdy
and
Eskimo Joe
all belong to the 'Freo Sound'.
"The Waifs
are an Australian folk rock band formed in 1992 by sisters Vikki Thorn and Donna Simpson as well as Josh Cunningham. Their tour and recording band includes Ben Franz and David Ross Macdonald."
"Little Birdy
are an Australian indie rock band in 2002 by Katy Steele, Matt Chequer, Simon Leach and Scott O'Donoghue."
"Eskimo Joe
is an Australian alternative rock band that was formed in 1997 by Stuart MacLeod, on guitars, Joel Quartermain, on drums and guitar, and Kavyen Temperley, on bass guitar and vocals, in East Fremantle".
This music scene, and that of neighbouring Perth, were explored in the 2008 documentary
Something in the Water.
"Using live, archival, and interview footage it explores the history and environment behind the development of local and nationally acclaimed musical talent in Western Australia."

"Maybe there's

something in the water

, maybe it's the isolation from the rest of the country, but there is definitely an upwelling in talent from this city by the Indian Ocean." Mick O'Donnell. Kavian from Eskimo Joe talks about Fremantle not only as the place where he lives but like it's one of his friends." "Little Birdy's lead singer Katy Steeles from the famed Fremantle family is sister to Luke Steeles, lead singer in

The Sleepy Jackson

."
Wikipedia: Fremantle
Music Fremantle...
---
Live Music in Fremantle: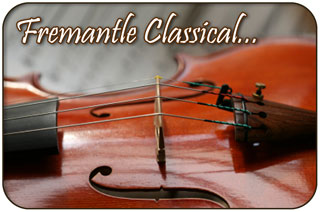 Fremantle Symphony Orchestra
The City of Fremantle Symphony Orchestra, which started in 1961, is a non-profit community orchestra with approximately 60 amateur musicians. The Orchestra performs around 5 concerts every year both locally and further south. In 2011 the orchestra celebrated its 50th birthday with gala concerts.
Fremantle Symphony Orchestra
Fly by Night Club
"The Fly By Night Musicians Club is a an iconic venue which has a rich history of musicians, actors, comedians, and even circus performers who have showcased their talent on the Fly's stage over the last 20 years with local, national and international artists performing at the club.
The Fly by Night Musicians Club is a not for profit community musicians club and music venue located in the heart of Fremantle. This building now run by the Na
tional Trust of Australia was originally constructed in 1895–96."
The Fly has provided a launch pad for many local bands since 1986 including some of WA's biggest exports… John Butler Trio, The Waifs, Eskimo Joe, San Sisco, The Panics, Tame Impala, End Of Fashion… and many more who have started off their careers with the assistance of the clubs facilities. VICTORIA HALL BUILDING 179 High Street, Fremantle, 6160
Tel: (08) 9430 5208
Fly By Night Musicians Club
Music Events & Music Festivals in Fremantle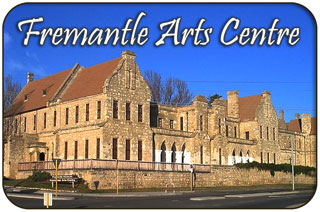 Music Events @ Fremantle Arts Centre
From October to March, every Sunday afternoon, this free outdoor community event is well frequented. There is a great live music line up of local acts and touring artists. This is a wonderful family friendly venue. Relax in the shaded grounds with a picnic lunch or pick up lunch from the cafe as you enjoy the music and company.
Address: Fremantle Arts Centre, Finnerty St , Fremantle
Telephone: 9432 9555
Website: Fremantle Arts Centre
Hidden Treasures - Fremantle's Winter Music Series
Hidden Treasures will light a spark in your winter night with music, yarns, and shenanigans.
Every Thursday night in July!
Visit Hidden Treasures on Facebook
Freo Royale
Freo Royale brings the Fringe to Freo: Feb 100 shows, 10 venues promoting Cabaret, Theatre, Comedy, Music and Art. Kings Square Common transforms into the hub of the festival with a pop-up bar, delicious food and markets.
Freo Royale on Facebook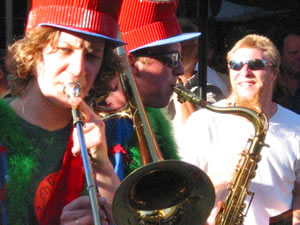 St. Jerome's Laneway Festival - Feb
St. Jerome's Laneway Festival is about leading new and revered seminal music. The festival has always been interested in finding what's fresh and bringing it to unique settings and surrounds to be appreciated by music lovers.
Laneway Festival
Laneway Festival on Facebook

Fremantle Night Clubs:

Fremantle Pubs, Breweries & Licensed Hotels with Music:
Fremantle's Pubs, Breweries and Licensed hotels are among the best in Western Australia. The port city has the best draughts from around the globe as well as the tastiest brew from right here in Fremantle.
Open 7 days a week, Marine Lounge Bar is the perfect spacious and stylish spot to chill out in the heart of Fremantle.
Step in for a coffee and bite to eat, or stay to enjoy the extensive range of wines, beers, spirits, cocktails, aperitifs and champagne by the glass whilst taking in the fresh air and beautiful park views on Marine Terrace in Fremantle. With its team of energetic staff, this spacious and stylish bar is the perfect spot for guests entertainment, corporate clients to catch up on emails and/or meet up with workmates for Happy Hour every day from 5pm. Feeling peckish? The Marine Lounge Bar is home to WA's best steak sandwich which we recommend every visitor to Fremantle must-try this award-winning dish! For something lighter yet comforting kind of food, try our all times favourite Spicy WA cuttlefish or Tiger Prawns Pizza specially made for sharing.
Marine Lounge Bar
This historic pub is one of the most important sites in WA – it housed the first convicts to arrive in the state.
The Ball & Chain – off the grid & on the corner! There is always something happening at the Ball & Chain. So lose the excuses and get on in; you will be blown away with the décor, amazing team, WA's widest range of Matilda Bay craft beer and extensive whiskey and spirit collection. Winter or Summer… the Ball & Chain is the place to visit in Fremantle. Enjoy Matilda Bay craft beer on tap. We've brought this iconic brand back to its home town of Fremantle in a big way, 31 years after its inception. Step into Bourbon Street – a stylish lounge area with floor to ceiling shelves loaded with the best range of whiskey brands from around the world. Feeling peckish? Our Pub Grub Menu has been hand selected to perfectly accompany your favourite craft beer or whiskey. Choose from a range of tasty food or gourmet snacks!
The Ball and Chain
Bar Orient:
Address
: 39 High St, Fremantle
Telephone
: (08) 9336 2455
Website
:
Bar Orient Website
Ball & Chain:
46-54 Marine Terrace, Fremantle
TEL: (08) 9435 1896
Website:
Ball & Chain
Benny's Bar and Cafe:
Address:
10 South Terrace, Fremantle
Telephone:
(08) 9433 1333
Website
:
Benny's Bar & Cafe
Clancy's Fish Pub:
Address
: 51 Cantonment St, Fremantle
Telephone
: (08) 9335-1351

Website
:
Clancy's Fish Pub
Federal Hotel
Address: 23 William Street, Fremantle
Telephone:
(08) 9335 1645
Website
:
Federal Hotel
Gypsy Tapas HouseAddress: 3/124 High St, Fremantle
Telephone: 9336 7135
Website: Gypsy Tapas House
Little Creatures Brewery
Address
: 40 Mews Rd, Fremantle 6160
Telephone
: (08) 9430 5555

Website
:
Little Creatures Brewery
Marine Lounge Bar:

Address

: Esplanade Hotel Fremantle - by Rydges
Cnr Marine Tce & Essex St, Fremantle


Telephone

: (08) 9430 4010




Website

:

Marine Lounge Bar

Mojo's Bar:
Address
: 237 Queen Victoria St, North Fremantle
Telephone
: (08) 9430 4010
Website
:
Mojo's Bar
Fremantle Comedy Clubs: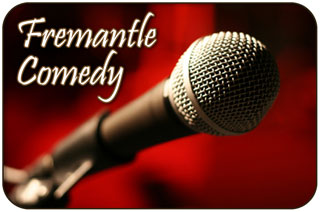 Little Creatures Loft
The Little Creatures Loft hosts Fremantle's only Saturday night comedy show. Featuring local, national, and international comedians.
Address: 40 Mews Road,
Fremantle, WA 6160
ph: 1300 LIVE COMEDY
ComedyLounge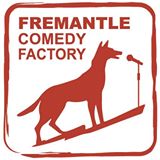 Fremantle Comedy - Fremantle Stand Up ComedyFremantle Comedy Factory
Open Mic Comedy Night every Thursday at the Sail and Anchor.
$5 entry, 12 comedians, guaranteed laughs....
Address: 64 South Terrace, Fremantle
Telephone: (08) 9431 1666
Check out WA's up and coming comedy talent!
www.fremantlecomedyfactory.com


Fremantle Taxi Rank:
Conventional taxi ranks:

Fremantle Railway Station.
Adelaide Street, opposite St John's Church
Collie Street next to Esplanade Hotel Fremantle­-by Rydges
Busking in Fremantle
What is a Busker?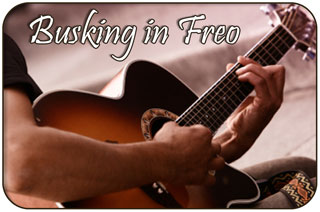 Street performance or busking is the practice of performing in public places, for gratuities, which are generally in the form of money and edibles. People engaging in this practice are called street performers, buskers, street musicians, minstrels, or troubadours. Street performance dates back to antiquity, and occurs all over the world.
Performances can be just about anything that people find entertaining. Performers may do acrobatics, animal tricks, balloon twisting, card tricks, caricatures, clowning, comedy, contortions and escapes, dance, singing, fire eating, fire breathing, fortune-telling, juggling, magic, mime and a mime variation where the artist performs as a living statue, musical performance, puppeteering... [wikipedia: street performance]
Fremantle Busking Rules & Regulations:
Information on Busking in Fremantle can be found at the City of Fremantle's Website:
Filming & Busking in Fremantle

Visiting us on your iphone or iPad? Thanks for visiting Fremantle Western Australia!